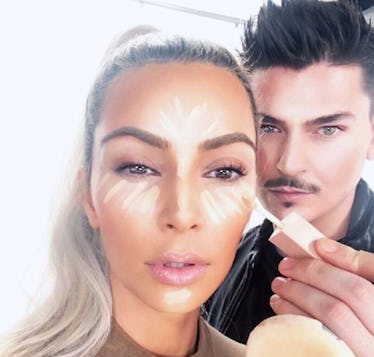 Kim Kardashian Is Collaborating With Makeup By Mario On New Products & Fans Are Losing It
Kim Kardashian West's beat has become the beauty standard for "good makeup," all thanks to her talented makeup artist, Mario Dedivanovic. Now, you too can look like KKW with the new collaboration from the dynamic duo. You might be wondering what's in KKW Beauty X Makeup By Mario palette? Well, hold on to your $110 Yeezy Cotton Flannel & Suede Baseball Hat because, Bible, it's going to be beyond.
Once upon a time, no one in the mainstream, non-makeupping world even knew what contour was. This technique was reserved by makeup artists to secretly enhance the features of celebrities and actors on the red carpet, but mostly on the stage. That is, of course, until Mario Dedivanovic, aka @makeupbymario, came along and revealed all of his behind the scenes secrets in one fateful post featuring tiger-like stripes on KKW.
Can you even remember what we did in the B.C. (before contour) era? I guess we just walked around with our delicious potato faces, blissfully unaware of how tastefully chiseled we could be. These days, everyone (including my mother) is painting thick stripes of cream concealer across their faces every single day in the hopes of looking like the iconic Kim Kardashian West. Seriously, as a professional makeup artist, a disproportionate amount of my clientele ask to look exactly like the reality star, reference photo in hand. This dramatic shift in the makeup pop culture was all thanks to the collaborative effort between Kim Kardashian West and the deviceful Mario Dedivanovic.
Fast forward three years and see how that spark of innovation has lead to (beauty) world domination. Kim Kardashian West now has her own makeup line, KKW Beauty, which includes, of course, both cream and powder highlight and contour kits. After releasing fragrances, glosses, and pigments, KKW is finally collaborating with the cosmetic pioneer himself to create what we believe with be the most in-demand eyeshadow palette of our time.
On Jan. 10, KKW Beauty posted this photo to Instagram, confirming the impending collaboration between the two iconic parties. Because KKW has already released a contour palette, we can only assume that these circular pans contain the eyeshadows necessary to create the iconic Kim Kardashian West natural glam. The internet, which KKW is used to breaking, is already freaking out.
This Twitter user knows that a collab between these two beauty powers that be is destined to be magical AF.
This MUA is finally committing to buying KKW Beauty simply because of the Mario Dedivanoic seal of approval.
I mean, yes probably, but this is a very good start indeed.
Some social media stans have even begun to hypothesize about the shades that will be contained in the rumored palette. Quite a few Instagram users thought the palette would contain all-grey hues because they didn't realize the photo was intentionally desaturated to hide the true shadow colors.
Another user predicted the hues in a near-psychic manner. I wouldn't be shocked if this guess was dead on.
This KKW Beauty lover doesn't care what the colors are, TBH, because she's still buying the palette anyway.
Lest we forget, this is not the first time Mario Dedivanoic has collaborated on an eyeshadow palette. His last major launch, the limited edition Anastasia Beverly Hills Master Palette by Mario sold out rapidly, and unopened palettes are still being sold on eBay for $100, which is double to original price. We can only imagine Dedivanoic will try to outdo himself with the rumored KKW Beauty palette.
No date has been released for the launch of the KKW Beauty X Makeup By Mario Collaboration. However, keep your ear close to the ground and your credit card in your hand. We're sure this palette will sell out in seconds, and you're not going to want to miss this.