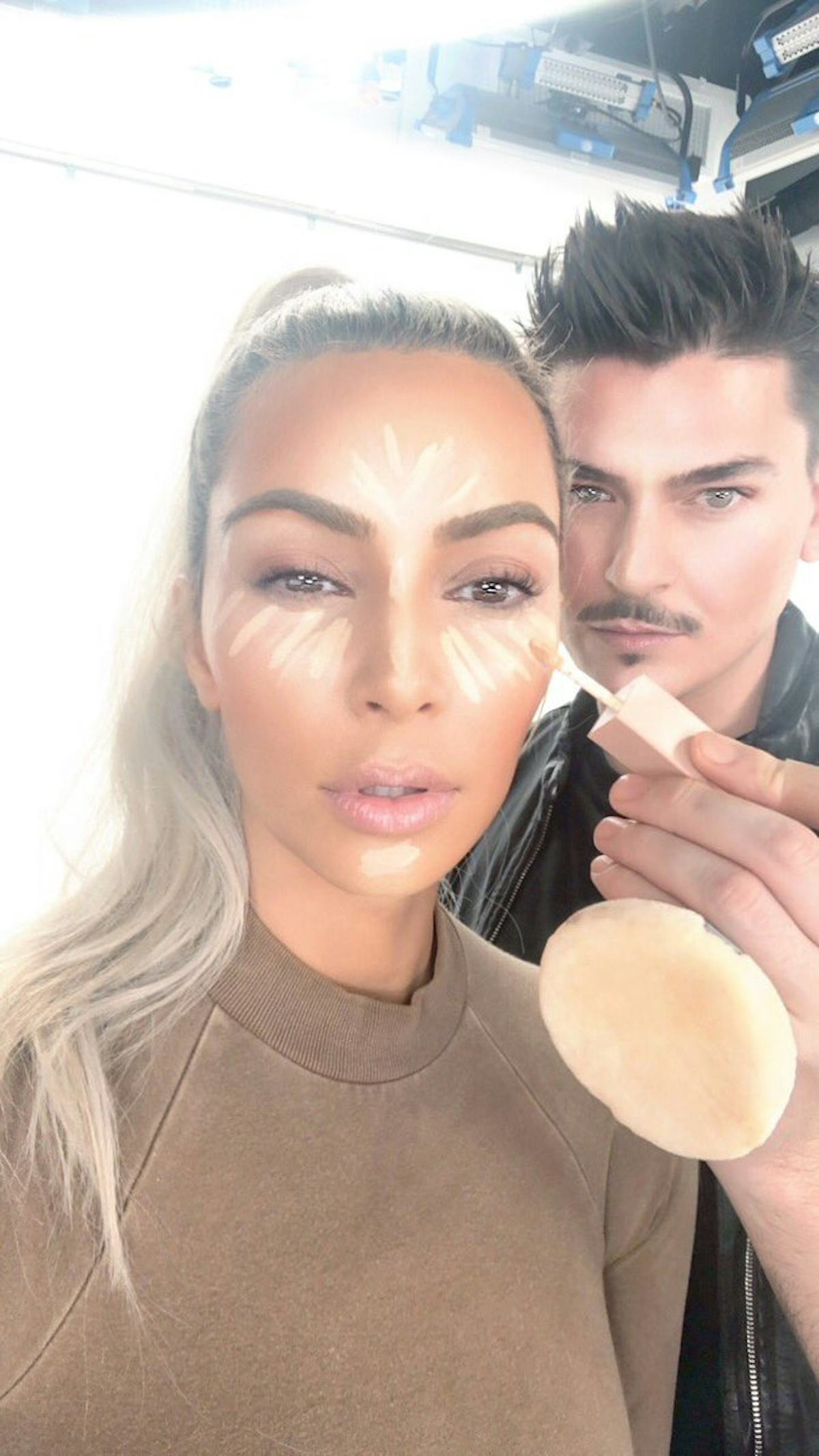 Kim Kardashian Is Launching KKW Beauty Concealer, So Bring On The Late Nights
Another day, another Kardashian-Jenner beauty product announcement. Kim Kardashian West and her younger sister Kylie Jenner are giving the beauty illuminati a run for its money, especially since Kardashian West just teased her newest product: concealer. When is KKW Beauty concealer launching, though? Kardashian West took to her natural habitat of social media to drop some hints.
Many of you wake up and, before you are even upright, check your social media accounts. I, however, check in on my beloved Kardashians to see if they've been up to anything in the eight-plus hours I've wasted sleeping. They've typically been sleeping too which reminds me that they are mere mortals. But due to the three hour time difference between us, sometimes I get an early morning treat. Today, my friends, is such a day.
Kardashian West is best known for her KKW Beauty contouring kits; she also recently broke the internet (not her first time) when she released the KKW Beauty Ultralight Beam kits, and even teased new KKW Beauty lipsticks. Maybe she doesn't sleep? The Ultralight Beam glittery lip glosses and loose powders were a sharp contrast from the star's normally neutral vibes, although they still managed to look on-brand. If you only know one thing about the Kardashians, know that it's all about branding. And thus Kardashian West gives us her newest gift of concealer!
"NEW PRODUCT 🚨 KKWBEAUTY.COM," Kardashian West tweeted from the West Coast, at what was past my bed time on the East Coast. Damn you, time zones.
"Guys, new product alert. Mario and I are doing a tutorial," Kardashian West says in the video. Mrs. West loves to give her fans video tutorials along with her new makeup releases. It's a way for her to give first hand tips on how to get the best use of of them - and free advertisement. Another genius move.
Kardashian West posted a series of photos and videos to tease the new product. This photo gives credit to her long-time makeup artist Mario Dedivanovic, better known by his social media alter ego, MakeUpByMario. Kardashian West and Dedivanovic often do IRL tutorials called Masterclasses and I bet they are prepping for their next appearance. Get those under eye circles ready, people!
Kardashian West coyly blows a kiss at the camera in this post. Considering how much of a perfectionist she is, I appreciate the behind the scenes look at her concealer routine. Everyone's got flaws, ladies!
"This lighting is very bright. New product alert!" Kardashian West is covering her bases to make sure her fans know about her next drop.
Earlier this year, Kardashian West also teased her new KKW Beauty lipsticks, so I assumed that would be her next product, but it seems like the concealers might win out. Please note that it's only eight days into 2018, and I already have to refer to something that Kimmy did "earlier this year." The girl never sleeps!
In June of 2017, Kardashian West spoke openly about a future KKW Beauty concealer product,
I have the most amazing concealer kit coming out, which I'm so excited about. It's not coming out right away, but it's coming out soon.
Well, the future is here!
"I feel like I've perfected this whole system. I used to, like, whiteout my entire under eye and it was just so crazy... I still have dark circles under my eyes, just being Armenian, and having to figure that out has been challenging. It's taken years, but I got the system down so I'm making it into a kit for you guys."
Hold the phone, a concealer kit?? Kimberly, you know I need money to like, live, right? You're making it so hard for me, but I love it.
Kardashian West hasn't yet given word of an official release date for the concealer kits, but now that she's debuted them on social media it must be soon, for the sake of avoiding beauty riots. Keep an eye out on her social media profiles and of course the KKW Beauty website. Then fill up your social calendar, because under eye circles will soon be a thing of the past.