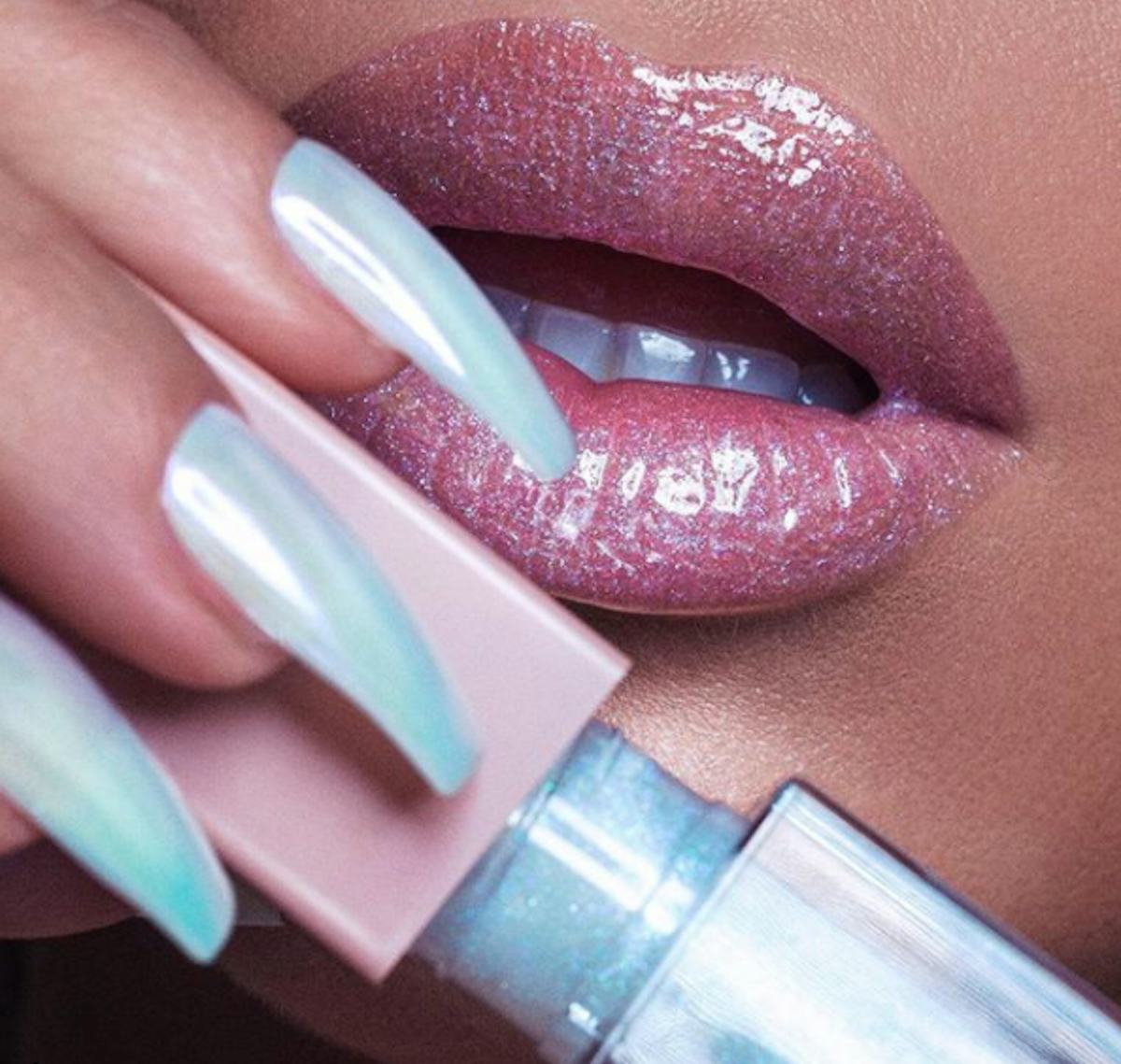 Reviews of KKW Beauty Ultralight Beam Lip Kits Are Here & The Feedback Is Literally Glowing
Kanye West's lyrics say it best: "We on an ultralight beam." Ever since Kim Kardashian West announced her latest makeup launch, a lip gloss and highlighter duo called Ultralight Beam, the entire world has been riding the shock waves. Reviews of KKW Beauty Ultralight Beam Lip Kits are already starting to trickle in, and if the glowing feedback is any indication, we're all about to beam up.
Kim Kardashian West has a habit of breaking the internet. Every. Single. Time. For her most recent revelation, fans discovered her eponymous makeup brand KKW Beauty is launching lip gloss and accompanying loose highlighting powder in five metallic shades: Iridescent (an opalescent pearl), Rose Gold (a light rose gold), Yellow Gold (a light gold), Copper (a rosy copper gold), and Bronze (a warm gold bronze). When I saw the assortment, I couldn't help but lust after the rose gold and copper colors — and wonder if they're actually as amazing as they appear. I'll take, "Do they live up to the hype" for 1,000 please!
True makeup fans are hoping to see real reviews and learn all nitty-gritty details of the inventive kits, like how you can possibly layer lip gloss with powder. I'm talking all of the facts, all of the tea (I prefer to always leave out the shade), and most importantly, no lies. So far, YouTuber Nicol Concilio has answered the call with a thorough video introduction of the products pre-launch.
As Concilio swiped on one of the lip glosses, she became instantly enamored with the formula. I don't know about you, but I hate a sticky lip gloss. According to Concilio, the formula isn't heavy, sticky, or goopy, which is so important. All of my '90s kids can attest that you haven't lived until you've piled on a goopy lip gloss until your lips look like Saran Wrap. KKW Beauty's version packs maximum gloss and glitter, but the flecks and pigments aren't chunky, so you don't feel any grainy texture.
Concilio goes on to note how the formula comes out of the packaging. It's super annoying to purchase a beautiful lipstick, and as soon as you pull it out from the packaging, it gets all over the place. The KKW Beauty Ultralight Beam glosses are very clean, and don't pool around the opening of the packaging, which means that you aren't wasting precious product.
Very, very clean when pulling it in and out of the compartment, which I think is very, very important to note. Sometimes I have used lip glosses, lipsticks, liquid to matte lipsticks, and you pull them out and it's just a mess."
Even though the glosses come with reflective powder, Concilio is impressed by how they provide shine own their own, without being cakey. If you're into the juicy lip look over the matte lipstick craze, you're going to be into these. I think the matte lipstick trend is fun, but still crave shine when I'm feeling extra. Somewhere in Calabasas or on a jet in the sky, I can imagine Kardashian West nodding her head yes in agreement.
Beyond Concilio's review, the most recurring critique I'm seeing is that the five shades are fairly similar, and perhaps not as pigmented as people would like. But it's important to remember these are neutral shades, video lighting can sometimes be blown out, and colors are going to look different on all skin tones. The truest test is what they look like in-person.
Kardashian's makeup artist Mario Dedivanovic, who she has been working with since 2008, stated that the glosses can be worn alone for more of a sheer look. If you want more of a standout look, you can layer them over the pigments, or even over other lipsticks. And don't stop at lips, because you can even use the glosses as eyeshadows to create a glossy eye look, or try the highlighter powder on cheeks. The Ultralight Beam kits serve many different functions, and I'm getting nostalgic, early 2000's J.Lo vibes looking at 'em.
If you've been following Kardashian West's makeup evolution over the years, you know that she's currently in a more simple, sophisticated season. It's an "Oh, I just threw on this lip gloss to run out the door," vibe, but still stunning. It shouldn't be surprising that element is reflected in her lip kits.
To the haters that are trying to pit these glosses up against Rihanna's Gloss Bomb ($18, sephora.com), there is no way Kardashian could have seen the release of Rihanna's lip gloss and rushed these lip kits. The packaging alone takes serious time to perfect, and the formula process takes even longer. Instead of pitting two female bosses against each other, it's important to recognize there is room for everyone. You're never really afraid of your competition if you're killing it in your own lane, after all.
Starting Dec. 1 at 12 p.m. PST, fans can score each Ultralight Beam duo for a mere $32, or simply admit defeat and snag all five for a cool $160 on KKW Beauty's website. If you know a KiKi mega-fan, consider shelling out for the collection as the ultimate holiday gift, but make sure to order by Dec. 10 for delivery before Christmas. Beam us up, Kim!