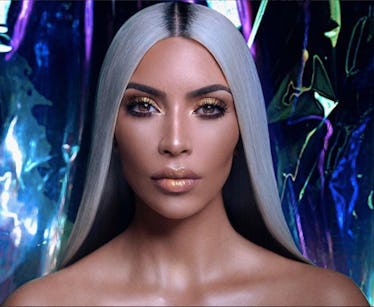 Kim Kardashian's Lip Gloss & Highlighter Kits Are Her Most Affordable Product Yet, So Thank You Kimmy
KKW Beauty
Kim Kardashian West is releasing beauty products like they're going out of style (which I personally hope won't ever happen). Next up for KKW Beauty: Shining, shimmering, splendid lip gloss/powder highlighter duos. You may be wondering how much KKW Beauty Ultralight Beams lip kits cost, and I hope you're holding on to your waist-length Kylie Jenner-worthy extensions, because this price will literally snatch them away.
Just to review the last episode of IRL Keeping Up With The Kardashians, Kim Kardashian West recently released her new fragrances to worldwide acclaim. Crystal Gardenia in all its iterations sold out the day of its launch, in true KKW Beauty fashion. Kylie Jenner followed up by launching her Holiday Collection, with delectable Naughty and Nice Palettes, as well as lip kits and glosses. And now, Kardashian West is coming for Kylie Cosmetics by releasing her own lip kits, which come with a gloss and an illuminating powder. And the lower price point makes this KKW Beauty's most affordable product yet.
In case you haven't purchased any of the Kardashian/Jenner fam's makeup in the past, Kylie Jenner has historically been the sister with inexpensive beauty products. At $29 for the majority of her lip kits and $20 for her blushes, her prices aren't necessarily drugstore, but they can certainly tousle with the big boys, aka high-end beauty brands. In the past, Kim Kardashian West received some criticism on the launch of her Crème Contour Kits ($48; kkwbeauty.com) due to the small product to price ratio. It seems she had listened to her fans in the launch of Crystal Gardenia which is, in the world of high end fragrance, an extremely affordable $60 for 75mL. Now, Kim Kardashian West is indirectly coming for Kylie Cosmetics by releasing a lip kit that is, in theory, less expensive than her sister's.
On Dec. 1, Kim Kardashian West is launching her new Ultralight Beams collection. According to Refinery29, you can be the be the proud owner of a KKW Beauty gloss and powder duo for only $32. That's right, for $32 you'll be getting not one, but two products from KKW Beauty.
For comparison, the Kylie Cosmetics lip glosses ($15; kyliecosmetics.com) retail for $15, and her Kylighters highlighters ($22; kyliecosmetics.com) come in at a cool $22. This means that the new KKW Beauty Ultralight Beam duos beat the Kylie Cosmetics gloss and powder total by $5! That's $5 that you can now spend on three Kanye West songs on iTunes, or use to purchase this iconic crying Kim Kardashian West magnet on Etsy.
Each of Kimmy's lip kits comes with an Ultralight Beam Powder, which is a super soft, fine, and glittery powder, and an Ultralight Beam Gloss, which has high shine and also hefty amounts of glitter. The duos will come in five cool-girl shades: Iridescent, Rose Gold, Yellow Gold, Copper, and Bronze.
Apparently, Kardashian West has named her new line after her husband, Kanye West. In an interview with Refinery29, Kardashian West explained, "I named my product[s] after his song. Because I heard it and I was like, 'Oh shit — someone needs to name a highlighter Ultralight Beam, and so I did." And so she did, fellow beauty lovers. Thank you Kanye, not only for the get right for summer workout mixtape, but also for the serious beauty inspo.
Huda Kattan of the social-media-famous makeup line and Instagram account Huda Beauty is already "dying over these."
Nicol Concilio also got her hands on an early release of the gloss and powder duos. While applying the powder pigments, she literally screams "Sh*t Kim, this is good!"
If you're over the whole matte lips trend, especially with the gross, dry winter weather approaching, then this new KKW Beauty lip kit will give you the glossy, juicy lips of your dreams. Just make sure to set your alarm: The whole new collection launches on Dec. 1 at 12 p.m. EST on KKW Beauty's website, and is sure to sell out immediately like every other hot new KKW beauty product.