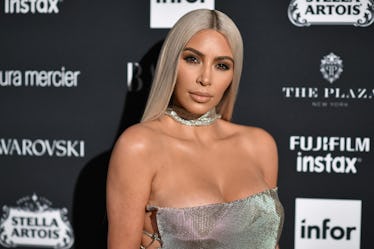 Kim Kardashian Is Dropping Lipsticks & Here's Hoping One Is Her Signature Nude
Dimitrios Kambouris/Getty Images Entertainment/Getty Images
2018 started less than 48 hours ago, and a Kardashian is already dominating the headlines. Kim Kardashian West announced on her app that she is eager to launch new lipsticks in the upcoming year (same, girl), and now everyone is wondering, when do KKW Beauty lipsticks drop?
The end of 2017 was marked by many important milestones — Kylie Jenner launched three new Kylie Cosmetics products, Kim Kardashian West created her Ultralight Beam lip glosses and highlighter powders, and Khloe Kardashian confirmed her pregnancy (!!!!). I'm still impatiently waiting for Kylie to confirm her pregnancy, but I'm not holding my breath for that one. At this rate, we won't find out she had the baby until 2019. But I digress.
The shining star of the Kardashian empire and apple of Kris Jenner's eye, Kim Kardashian West wasted no time in 2018 by confirming that she will soon be launching KKW Beauty lipsticks. Kardashian West practically redefined what it means to be a celebrity — the "talentless" star is a bonafide (and successful) business woman who knows how to give the people what we want. Well, I didn't even know I wanted KKW lipsticks because I didn't know I could have them, but now I'm jittery for their release. In typical Kardashian fashion, Kimmy K has given just enough information to send her fans into a tailspin, and keep us begging her for more details. Read on to find out what she's said so far.
The Announcement
At first glance, Kardashian West appeared to be giving her fans a look at what she's wishing for in the year ahead, but upon closer inspection, I realized she was announcing a new product! Actually, new products, plural.
Kardashian West proclaimed, "The KKW Beauty product I'm most excited about for in 2018: lipsticks!!!!" The post from her for-profit website and app also features a photo of Kardashian West wearing a beautiful nude shade of lipstick. Could that be one of her upcoming colors? I sure hope so!
KKW Beauty: A Brief History
The selfie queen is known for favoring a neutral color palette for everything from her clothes, nail polish, and of course to her very own cosmetics from KKW Beauty. Her first products were her KKW Beauty cream and powder contour kits which really set the tone for her brand's aesthetic — the Kardashian's are nothing if not branding connoisseurs.
Next, KKW Beauty collaborated with Kylie Cosmetics and released four "beautiful nude shades" last year. Kylie Cosmetics is in contrast known for its bold hues, but Kylie Jenner's older sister made her love of neutrals shine through in the partnership.
Kardashian West surprised the beauty world with her Ultralight Beam products. The remarkably sparkly lip glosses and highlighter powders were a radical departure from the star's skin-toned contour kits and subdued nude lip glosses, but Kim defied the odds and made it work! Just look at how well the glittery makeup meshes together with her existing goods.
Mrs. West has been known to secretly wear her products before they are released to the masses — or rather, the small portion of the public that can manage to get their hands on them because they are infamous for selling out in minutes. My girl Kim has been wearing many nude lipsticks as of late, and up until now I assumed that they were her #KKWXKYLIE lip glosses. Now I'm thinking they are her not-yet-released KKW Beauty lipsticks!
You so sneaky, Kim.
Much to my dismay, Kardashian West has not released many more details about the new lipsticks' release. History tells me they will be sold on her KKW Beauty website, release day will mean setting an alarm for 12:00 p.m. EST and 3:00 p.m. PST. Knowing Kimmy, and the close personal relationship I have with her social media accounts, more announcements will be made via Instagram and Twitter in the near future. Stay alert, KKW Lipsticks are coming!