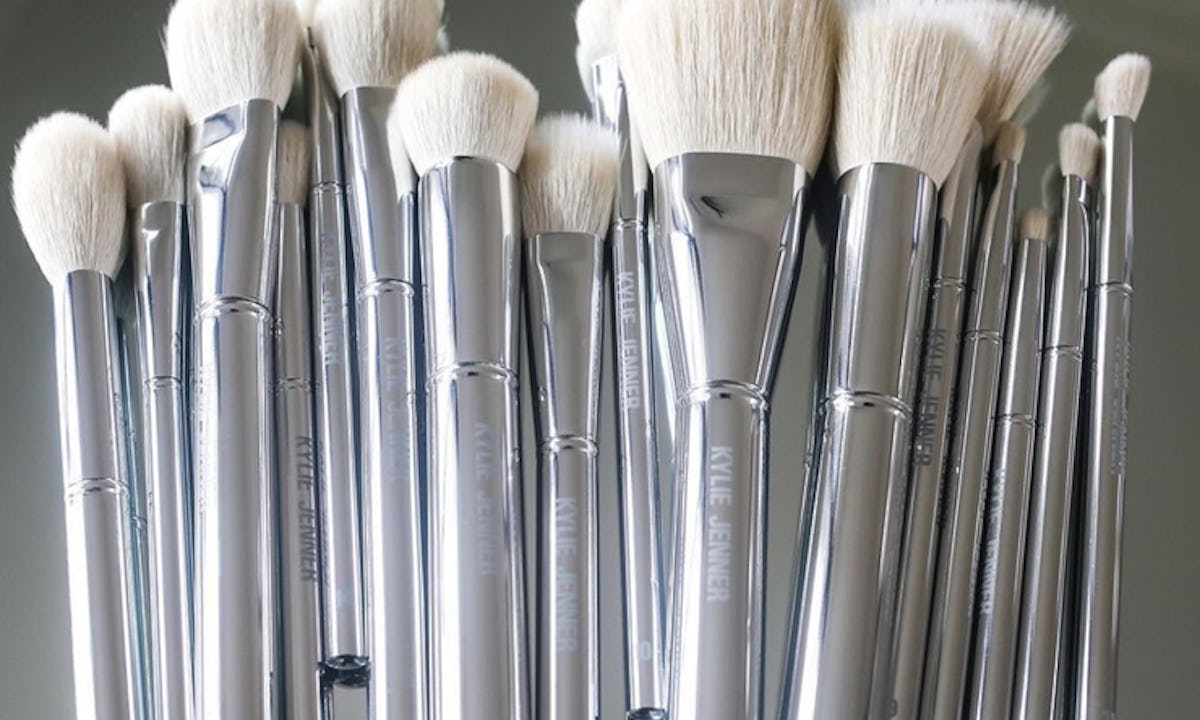 Kylie Jenner is Launching Makeup Brushes & Gulp, The Price Is Gonna Sting A Bit
Kylie Cosmetics Instagram
Move over Santa, Kylie Jenner is taking over the holiday season as the biggest gift giver in the game. In the past few days, the youngest Kardashian/Jenner sister has announced she's launching lipsticks, concealers, and now, makeup brushes. The real question, though: How much do Kylie Cosmetics brushes cost? Before you get angry, hear me out for a second. I can't promise you still won't be a bit flabbergasted, but everyone will come out a winner here.
On Dec. 5, Jenner decided to interrupt baby watch news with a more business-savvy announcement. Come Dec. 13, the mogul will be launching a three product lineup called The Silver Series. When the news first broke on the Kylie Cosmetics Instagram, the public only knew Jenner would be releasing a line of classic bullet lipsticks. Jenner then went and broke the internet once more, announcing the release of 30 shades of liquid concealer that will launch alongside the lipsticks. While I was trying to catch some beauty sleep, Jenner announced the last drop — drum roll please.
Available individually and as a set, Kylie Cosmetics is launching 16 luxury makeup brushes. As far as the price goes, everyone take a collective deep breath in and out. For the limited-edition set of all 16 silver tools plus a silver roll to store them in, you may have to shell out your entire holiday bonus (that's assuming you get one, because I know I don't).
For the entire set, you're looking at $360. This is the point where I talk some sense into myself. The average woman doesn't need all 16 brushes. If you're anything like me, you're perpetually rolling over trying to get those last ten minutes of sleep, and the next ten are spent warming up your choice of caffeine (matcha, bulletproof coffee, or a simple tea). I don't have time to beat my face with 16 different brushes and prepare an I.V. of Oolong tea.
If you can't afford all of the brushes, don't worry. Each brush will be sold individually, so you can score precisely what you want/need without going into debt. Ranging in price from $16 (for the angled blending brush) to $48 (for the large powder brush), there's a white-bristled brush for everyone. Jenner even took to her Snapchat to share her favorite brushes in the set.
I'm so, so excited to show you guys my favorite brushes, which happen to be my very own. I've been using these forever."
The Silver Series brush collection is described on the Kylie Cosmetics Instagram as "all of Kylie's must-haves," so basically everything you need for various looks. Overall, the brushes are ideal for blending all over the face, and I like that she offers variety for you to use them on your face and body as well. Her favorite brushes are the #3 ($28), a medium tapered brush that Jenner uses to stipple on blush. She also relies on #7 ($22), a medium stippling brush, for cream contour. Anyone in search of fleek cheekbones should look into it.
I would personally use #2, the large stippling brush, because it's multi-purpose. You're basically getting two brushes for the price of one. This big fluffy brush is ideal for the face and body, if you want to get that airbrushed Kardashian-Jenner makeup look when blending powder or glitter. My second favorite brush would be the fan brush (aka #9), which sells for a reasonable $20. This brush isn't a necessity for beginners, but I think it's great for the woman that loves the highlighted look. Fan brushes are ideal for sweeping your favorite powder highlight over cheekbones, along the bridge of your nose, and into the brow bone or cupid's bow.
The entire collection will be available on Dec. 13 on the Kylie Cosmetics website, along with the lipsticks and concealers, so you may want to prioritize your shopping list in the meantime. I know my non-existent holiday bonus will only go so far.