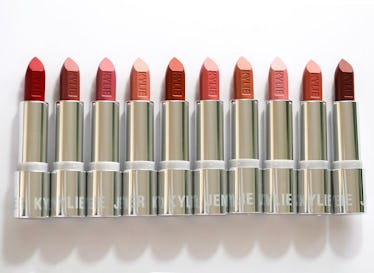 Kylie Jenner Is Launching Her First-Ever Classic Lipsticks & The Shade Range Is MASSIVE
I thought I'd never live to see the day that Kylie Jenner would eschew her famous lip kits in favor of something more traditional. But here we are, I'm only 28 years old and still learning new things all the time. The bonafide queen of matte liquid lipsticks is introducing the bullet lipsticks we all know and love, and you're undoubtedly wondering how much Kylie Cosmetics Silver Series lipsticks cost. Well, I get it, and I'm going to do you one better, because I've got all the deets on the surprising new formula.
Jenner is not even old enough to legally drink, but she has managed to create a certified business empire. I've been legally drinking for seven years now and I have not one empire. Maybe there's something to that? Nah. After releasing her holiday collection eyeshadows and lip kits a mere 14 days ago and announcing new Kylie Cosmetics pop-up shops, Jenner's been quite the busy bee — too slammed to confirm her rumored pregnancy, indeed. Real quick, Kylie, are you pregnant? Blink once or yes, twice for no. OK, back to makeup.
Jenner started Kylie Cosmetics with lip kits only, which included lip liners, lip glosses, and liquid lipsticks. After realizing she was sitting on a mountain of gold, the reality star quickly expanded her realm to include eyeshadows, blush, and highlighters. Jenner is now blessing us with some good old-fashioned lipstick, which she is calling her Silver Series. The new line will feature, wait for it, 20 new shades of lipstick. Game. Over. Keep reading to find out how much they'll cost you — and when to start virtually lining up.
...I Wasn't Ready For It
The shocking announcement occurred over social media, because duh. Videos on the Kylie Cosmetics Instagram and Twitter pages brought the news of the mind-blowing 20 new products to life. Jenner described the lipsticks as "highly pigmented and hydrating with a creamy satin finish." Sign me up now.
I keep up with the Kardashians like it's my job, and sometimes it literally is, but even I wasn't ready for this one. Jenner's older sister, the inimitable Kimberly Noel Kardashian West, just launched her own lip kits, and while the famous family is known for their lack of sibling rivalry (among other things), I can't help but wonder if Jenner timed her own new lipstick launch to remind fans that she is the one true Lip Kween. Regardless of Jenner's motivation, I'm just glad to see her offering regular bullet lipstick for liquid newbs like me.
Housed in shiny silver tubes, each bullet comes emblazoned with "Kylie" running up its length. On Twitter, Jenner revealed they provide "full pigmentation with just one swipe," and that fans "are going to love this crème lipstick formula." I sure hope so!
This wide-reaching launch may be Jenner's most inclusive color palette yet, or as she tweeted: "A little something for everyone! Nudes, pinks, mauves, berries, oranges and browns." Color me enthused.
The best part: Jenner claims the new products are easy to apply, and will leave your lips soft, the significance of which intensifies during the cold, dry winter months. When I think of applying a drying formula during the month of December, I shudder.
Send Nudes
Kylie took to Snapchat to showcase swatches of her new babies, and the 20 shades are comprised of four different color families. First up, the nude colors, which may be my personal favorite. If you're into neutral colors, these are the sultry, au naturale hues for you.
Pretty In Pinks
The pinks are so beautiful I might cry. Puppy Love is a bright, fun pink while the color group graduates into a deep red with Pomegranate. Maybe 2018 will finally be the year I try a red lip.
Mauve Over Kim, These Shades Are Berrylicious
Ultralight-years away from Kardashian West's shimmery lip glosses are Jenner's ripe, juicy hues. Dare I say Jenner is growing up? Actually, I'm pretty sure she's way more of an adult than I am.
Orange You Glad You Kept Reading
The most daring options are the oranges and browns, and while I prefer my chocolate soufflé on a plate, I can't wait to see the rest of you rocking these.
Get Ready To Shop
Snatch up your personal fav colors on Dec. 13. The Kylie Cosmetics website will hold your future for only $17 per lipstick, so you can even score some for friends and get competitive about holiday gifting just like the Kardash/Jenner fam does.