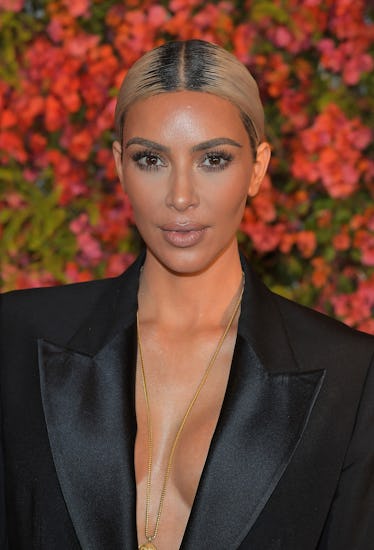 Kim Kardashian Wrote The Sweetest Message About Her Third Baby & We're Sobbing
Charley Gallay/Getty Images Entertainment/Getty Images
Holy sh*t and hallelujah. Kim Kardashian and Kanye West's third, gorgeous baby has finally arrived and the world is rejoicing. Seriously. The sheer manpower that went into documenting this baby is staggering. We've all been waiting and finally, Kim Kardashian broke her silence on baby number three.
Kim Kardashian shared the news on her app on Monday, Jan. 16. She posted the following message for her followers:
January 15, 2018, 12:47 a.m. 7 lbs 6 oz. Kanye and I are happy to announce the arrival of our healthy, beautiful baby girl. We are incredibly grateful to our surrogate who made our dreams come true with the greatest gift one could give and to our wonderful doctors and nurses for their special care. North and Saint are especially thrilled to welcome their baby sister. Love, Kim Kardashian West.
Kardashian's journey into motherhood has not been a smooth and easy one. Kim had two difficult pregnancies with her first two kids, North and Saint. Suffering a difficult condition called preeclampsia and placenta accreta, Kardashian made the decision to forgo carrying her third child. With the help of professionals, Kimye landed on the idea of a surrogate.
Kardashian first confirmed she was expecting another child in a video promo for Season 14 of Keeping Up With The Kardashians. After discussing the option of surrogacy with her sisters, we finally learned that she was moving forward with it.
Still, despite her difficult pregnancies, Kim revealed to Entertainment Tonight that the process of surrogacy was much more challenging for her emotionally than she thought it would be. She explained,
You know, it is really different. Anyone that says or thinks it is just the easy way out is just completely wrong. I think it is so much harder to go through it this way, because you are not really in control. And, you know, obviously you pick someone that you completely trust and that you have a good bond and relationship with, but it is still ... knowing that I was able to carry my first two babies and not, you know, my baby now, it's hard for me. So, it's definitely a harder experience than I anticipated just in the control area.
She even acknowledged how much she "hated" being pregnant, and still confessed she would have rather carried the baby herself. She added,
I hated being pregnant and I never thought I'd ever ... I thought this was going to be so easy, but you know, even in how much I hated it, if I could do it myself I would have preferred that. So, that inner struggle is kind of hard, but I am just rolling with it and it is what it is.
Now that the gorgeous bundle of joy is here, we wonder how she and her family are doing! Kardashian had previously explained that when she was pregnant herself, it helped her and her family (re: North) understand that a big change was coming. With surrogacy, it sounded like she would forget at times that a baby was even on its way! She said,
I think it is definitely a different experience and I am blessed that I am able to do this, and technology is the way that it is that we can do this. But it is still a process that you need to digest. Even the fact that it is happening -- and you do forget sometimes -- because I think when you are pregnant, by the time you have the baby, you are so prepared and so ready, and now I am just like, 'Oh my God I am going to freak out because I'm not ready and I'm not prepared,' but it'll just all come into place.
Well, it certainly looks like it all has come into place.
We are so excited for this growing family.
Check out the entire Gen Why series and other videos on Facebook and the Bustle app across Apple TV, Roku, and Amazon Fire TV.