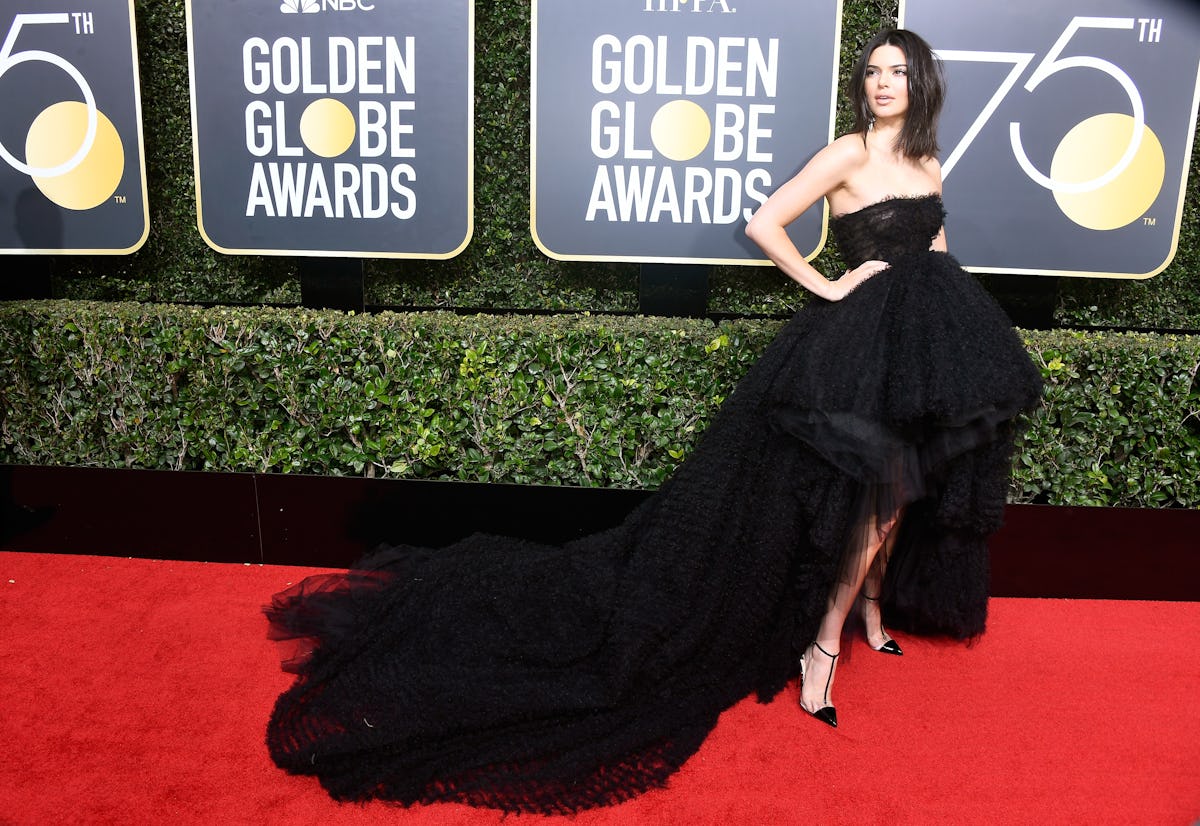 Surprise! Kendall Jenner Is At The Golden Globes & She Totally Channeled Rihanna
Frazer Harrison/Getty Images Entertainment/Getty Images
The Kardashian/Jenner clan just can't do anything low-key, such as watch an awards show like us normal folk. A surprising member of the Kar-Jenner family showed up at tonight's red carpet and, gorgeous as she is, Kendall Jenner's 2018 Golden Globes dress is basically ripped right out of Rihanna's closet.
The year was 2015, yet I remember it like it was yesterday. The Grammy Awards' red carpet arrivals were in full swing, I was in awe of all the stunning fashion statements, and yet as the red carpet began to wind down, Rihanna was nowhere to be found. Then, a latecomer arrived, someone who looked as though they had been swallowed up by a giant ball of pink tulle. Oh wait, it was just Rihanna and I realized that RiRi can wear whatever the f*ck she wants and look amazing while doing it. With that, her tardiness was soon forgiven.
Because this moment was seared into my memory, when Kendall Jenner arrived on the Golden Globes red carpet nearly three years after Rihanna's grand entrance, it was all I could think about. Once confirmed that Jenner was wearing Giambattista Valli, I died. Rihanna's dress was also made by the Italian designer. Both ladies looked down right #hawt in their gowns, but as they say, the early bird catches the worm.
Jenner wore an asymmetrical, black tulle gown from Giambattista Valli's Fall 2017 Couture collection. She paired it with black patent leather and clear PVC Christian Louboutin T-strap pumps. Jenner also showed off her new lob haircut (slang for long bob), and wore minimal jewelry.
Rihanna's dress was from Giambattista Valli's Spring 2015 Couture show. If you can mentally Photoshop-out the lower, front portion of Rihanna's gown, and dye it black, the end result will be Jenner's dress.
Jenner chose a black dress probably in part to avoid completely repeating Rihanna's look, but also likely in support of the Golden Globes Time's Up fashion protest. Most other celebrities, male and female, were wearing black on the red carpet in support of those who have endured sexual harassment and assault and in support of the increasing number of individuals speaking out about it.
Kudos to Jenner for also showing her support.
Back to the dress. Valli is known for his voluminous designs, and they make for excellent red carpet moments. I mean... clearly.
And unique shapes...
But Jenner didn't pick a uniquely shaped gown for her Golden Globe debut; she picked something that looks eerily similar to Rihanna's pink getup à la 2015.
Rihanna's gown was floor length, while Jenner's bare's her legs in the front. But leg-baring aside, the ballgowns are having a serious #twinning moment.
"Kendall Jenner is wearing the black version of the pink dress Rihanna wore a few years ago. #GoldenGlobes #2018," one fan tweeted. So I guess I wasn't the only one who noticed Jenner's copycat vibes.
There was another déjà vu moment with Jenner's Golden Globes arrival. Many viewers were quick to point out that Jenner's stance channeled Angelina Jolie's 2012 Oscar's red carpet iconic moment.
"Kendall Jenner had a major Angelina Jolie moment at the #goldenglobes last night." Leg game on fleek, Kendall.
"Truly I couldn't decipher Kendall Jenner from Angelina Jolie #GoldenGlobes2018," another user tweeted.
Between the dark hair, black dress, and thigh-high slit, Jenner was a dead-ringer for Jolie. Some viewers were also wondering if Jenner's lips appeared slightly fuller than usual too?
"Leg Bomb Alert Kendall Jenner Copies Angelina..." another tweet read. Jenner was actually called out on duplicating this pose once before. I guess she didn't learn her lesson.
Per usual, Twitter was not always kind in its comparisons:
"Sorry, @KendallJenner... that leg? Angelina did it first," read one tweet.
To be fair, popping out your leg on the red carpet is nothing new. Although when Jolie did it in 2012, it was also nothing new, and yet everyone is still talking about it.