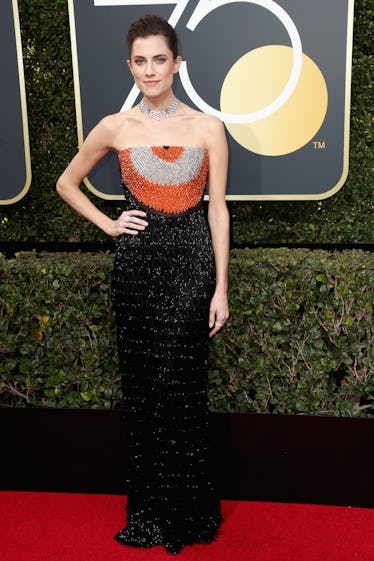 Hollywood Is Making A Literal Fashion Statement At The Golden Globes & I'm So Here For It
Frederick M. Brown/Getty Images Entertainment/Getty Images
Typically, award shows provide a place for the most outrageously vibrant fashions to shine. However, you might have heard that a certain prestigious red carpet is about to be unusually oversaturated with gowns of one specific color. Why are actresses wearing black to the Golden Globes, you ask? The reason goes way beyond fashion and trends. The biggest names in the biz are using the sartorial statement as a means of protest and resistance against sexual harassment in Hollywood to show that it will not be tolerated anymore. Just as the suffragettes wore purple, white, and gold (the official colors of the National Woman's Party) to make a visual statement of unity, the women of Hollywood will wear black.
This means that the Globes red carpet, which will take place on Jan. 7, might look similar to a black tie funeral, which I think is extremely fitting. What better way to definitively mark an end to the era that silenced victims of sexual harassment than a very public procession symbolizing its death? Fashion can be a powerful means of making a statement; thanks to the "Best Red Carpet Looks"-type stories that are often coined as shallow and insignificant, this one certainly won't go unnoticed.
Although no specific stars have confirmed whether or not they will partake in wearing black for the night, it's likely that women who have been outspoken about Hollywood harassment will lead the charge. This includes names like Natalie Portman, Reese Witherspoon, Cate Blanchett, Eva Longoria, Shonda Rhimes, and Emma Stone, who have publicly backed a new initiative called Time's Up, which "was announced via a full-page advert in the New York Times, and is described as a 'unified call for change from women in entertainment for women everywhere,'" according to NME.
All of this comes in response to the firestorm of sexual assault allegations that have come out against prominent male directors, actors, and producers over the past four months. In October, the New York Times published a story detailing decades of allegations of assault against Harvey Weinstein, and finally, the world took them seriously. Since then, allegations against actors, producers, directors, and countless more have come out, proving what women have been screaming at the top of their lungs: that sexual assault is real, widespread, and largely ignored. Until now.
After the Hollywood harassment allegations broke, the #MeToo movement went viral on social media. Women who had been sexually harassed bravely posted the hashtag, and the sheer volume of posts proved without a doubt that the problem was epidemical and systemic. It could be ignored no more.
Which brings us back to Sunday's 2018 Golden Globes: to the Time's Up initiative, to the continued effort by the media to tell women's stories, and to the upcoming dark sartorial statement that will hopefully usher in a new era of light.
It's inspiring enough to know that the most powerful women in Hollywood will be standing together in unity to metaphorically have their voices and those of every victim heard. But what makes the whole thing that much more inspiring and encouraging is the fact that men, too, will partake in the sartorial protest, as confirmed by stylist Ilaria Urbinati on Instagram. Her post reads, "Because everyone keeps asking me... YES, the men WILL be standing in solidarity with women on this wearing-all-black movement to protest against gender inequality at this year's Golden Globes. At least ALL MY GUYS will be." Urbinati works with names including Dwayne "The Rock" Johnson, Donald Glover, and Tom Hiddleston.
While it's undeniably positive that men are making an effort to stand in support of women, it's been noted that they already normally wear black tuxedos on red carpets; for them, it won't really make a huge visual statement. Taking this into account, it might have made more sense for the color of protest to have been purple or some such, but let's just revel in the fact that the sexual assault epidemic is finally being taken seriously. It's about damn time.