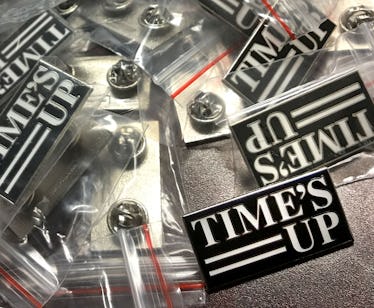 This Accessory Is About To Be All Over The Golden Globes Red Carpet
It's official: the most talked about accessory on the red carpet this year won't be a custom Edie Parker clutch or a billion dollar Cartier necklace. Rather, it will be the Golden Globes Time's Up pin, which publicly condemns sexual harassment. Where can you buy the Time's Up pin for yourself, you ask? Luckily, it's available for pre-order with other official Time's Up merch right now.
Earlier this week it was announced that actors, actresses, producer, directors, and anyone else attending the awards show could wear black as a symbol of sartorial protest against sexual harassment. While this is amazing in theory, and will most certainly result in a very monochromatic procession into the awards show, people were quick to point out that wearing black probably wasn't the best form of resistance to choose. Most men who attend the Globes already wear black tuxedos, so not much would change there. Black dresses are also a red carpet staple for women as well. I surmised that black might have been chosen specifically for the reason that it signifies death (and therefore possibly the termination of Hollywood tolerating harassment), but there's no doubt that a more unique color would have made a greater statement.
But thanks to the Time's Up Pin ($12; store.timesupnow.com), it will be blatantly clear which members of Hollywood choose to stand together and vocally (or visually) denounce sexual harassment of all types. According to the Hollywood Reporter, Reese Witherspoon approached costume designer and stylist Arianne Phillips last month while at the private Creative Artists Agency meeting that ultimately birthed the Time's Up initiative, and asked her to design the pin in time for the Golden Globes.
"Reese asked me to come to the actors' group, and told me they were going to be wearing black and would I consider creating a pin for the nominees and male presenters. We were up against the holidays, but I said I could do it, and the first person I called was my partner-in-crime, [Los Angeles jewelry designer] Michael Schmidt," reveals Phillips. In two weeks time, the two had not only designed the pin, but had been able to get 500 of them manufactured within the U.S. "I met so many great women, and it was such an honor to be called to action," says the designer.
The Time's Up merch is an excellent way to raise funds for the Time's Up legal defense fund (more on that below). The pins are little rectangles and feature a black background with white text reading "Time's Up," so their aesthetic would certainly appeal to the masses. They're simple, to the point, and will make as blunt of a fashion statement as possible.
Remember when Emma Stone wore a Planned Parenthood pin attached to her Givenchy dress for the 2017 Oscars? Remember the response it received? This will be like that, but times 500. Power in numbers is real, and I can't wait to see message of support and unity that this sartorial movement will result in.
As a refresher, the Time's Up initiative and legal defense fund was announced on New Year's day by 300 women in the entertainment industry including Witherspoon, Meryl Streep, America Ferrera, Ava DuVernay, Shonda Rhimes, and more. It aims to support women across all fields and and industries who are dealing with sexual harassment. As its mission statement puts it, it's a "unified call for change from women in entertainment for women everywhere."
So far, the Time's Up fund, which "provides subsidized legal support to those who have experienced sexual harassment, assault, or abuse in the workplace," according to their website, has raised over $13 million dollars from 200 donors. And now, Phillips is calling on the fashion industry to donate to it. ""I can't think of anything more appropriate than fashion brands who have built careers on the red carpet donating to the Time's Up legal fund, because as we've learned in the last year, there's nothing more powerful than how we spend our money," Phillips told the Hollywood Reporter. "I will take notice of these brands and want to do business with them."
Girl f*cking power.