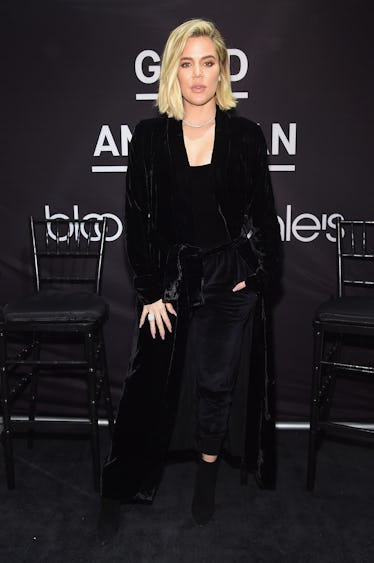 Here's How Khloé Kardashian Hid Her Baby Bump For So Long, In Case You're Wondering
Jamie McCarthy/Getty Images Entertainment/Getty Images
I think by now we are all aware that Khloé Kardashian has finally announced her pregnancy, and if you didn't know — well, now you do. After months of wondering if she and her sister Kylie were pregnant, Khloé finally gave us all some hope and spilled the beans. (Khloé, if you're reading this, thank you.) When she made the announcement on Instagram on Dec. 20, fans thought that things couldn't get any better. But guess what? We're dealing with a Kardashian, so of course things got even better. There was the initial Instagram announcement, followed by dozens of adorable photos and videos on social media of Khloé with a little baby bump. Then there was the big reveal to her family on Keeping Up With The Kardashians. And now? Now, we're blessed with Khloé Kardashian revealing how she hid her baby bump for so long, because 2018 is just so good, you guys.
First, I just want to start off with saying that anyone who can hide their pregnancy for months on end deserves some kind of medal. Baggy sweats and telling everyone you can't drink because you're on antibiotics can only get you so far. But now that Khloé is out in the open with her pregnancy, she's finally telling the world just how she did it.
Kardashian took to her website to A) tell the world that "Holy sh*t, I hid a pregnancy for a really long time" and B) reveal exactly how she did it. She wrote,
I can't even believe I hid my bump for as long as I did, lol ... It took a few styling sessions, serious strategy and a shit-ton of courage, but it worked!
It's almost as if she surprised herself with how she got away with the whole ordeal, like, excuse me? I did what? For how long?
According to People, Kardashian masked her pregnancy with techniques like oversized outerwear and larger accessories to help draw the eye away from the midsection.
She also talked about how she was pregnant for sister Kim's baby shower, and how, instead of just not showing up, hid her bump with a strategic outfit:
I went super girly for Kim's baby shower. Little did everyone know I had a bun in my oven, too! A cinched waist with a flared, A-line hem is so $$$ for hiding a small bulge. It flows loosely at the exact right spot.
Hear that, everyone? A-line equals money when hiding a bulge — and honestly, this works for bulges that don't have to do with pregnancy, so hallelujah for that.
Khloé is an all-around goddess, but now that she's pregnant, she's somehow even more beautiful. When she went on Jimmy Kimmel Live, she talked about the moment she found out she was pregnant, and it is so, so sweet, because her boyfriend Tristan Thompson basically called it. She said,
Tristan kept saying: 'You're pregnant,' because I was nauseous and not feeling well. But then he had to leave the country and I took a pregnancy test. I was screaming, it was so surreal. I had my trusty assistant [buy the test,] so Alexa, my assistant, Tristan and I were the only ones that knew for a few weeks until I was able to tell my family.
So let me get this straight: She not only had to hide her pregnancy from her fans, the press, and the paparazzi, but she also had to hide it from her entire family for weeks until Tristan came back to the United States?
This girl is a straight-up magician. Khloé, we bow down to you for hiding your pregnancy so flawlessly. But now that the cat's out of the bag, we're so pumped to be able to watch your belly grow, because you are giving us serious #pregnancygoals.
We love you, Koko!