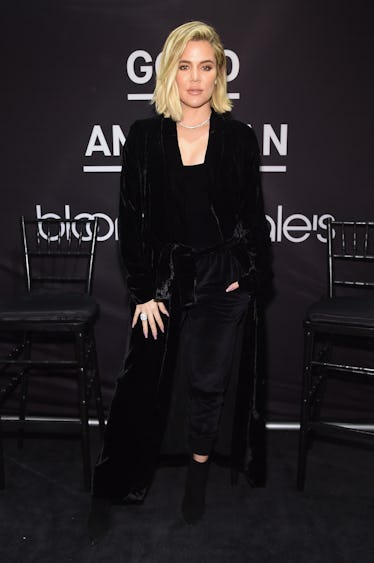 Khloe Kardashian Wore Kendall Jenner's Signature Undies To Announce Her Pregnancy
Jamie McCarthy/Getty Images Entertainment/Getty Images
It's only been a few minutes since Khloé Kardashian confirmed her pregnancy, and fans have already learned two crucial details about her maternity style. She likes to be comfortable — and she's not afraid of borrowing from sister Kendall Jenner's sporty aesthetic. Now all we're left to wonder is where to buy Khloe Kardashian's Calvin Klein sports bra because it looks comfy AF.
The middle Kardash sister took to Instagram (what else?) for the surprise announcement, even though many had predicted the family's advent calendar-style Christmas card would deliver the news. "My greatest dream realized! We are having a baby! I had been waiting and wondering but God had a plan all along," wrote Kardashian, who went on to praise her boyfriend, Cavaliers player Tristan Thompson. "I still at times can't believe that our love created life! Tristan, thank you for loving me the way that you do! Thank you for treating me like a Queen!"
Kardashian has always seemed to appreciate her fans, and her bun-in-the-oven confirmation wasn't complete without a sweet shout-out. "I know we've been keeping this quite but we wanted to enjoy this between our family and close friends as long as we could privately. To enjoy our first precious moments just us. Thank you all for understanding."
Not only did Kardashian's heartwarming message manage to acknowledge her faithful stans, but it also served to promote sister Kendall Jenner's Calvin Klein campaign. Kardashian opted to go shirtless and show off her growing belly, donning only a dark Calvin Klein sports bra and pants, plus a large band on that ring finger.
If her undies look familiar, that's because Jenner frequently posts selfies in her Calvin's, when she's not starring in billboards for the brand.
Jenner shares the duty of modeling her Calvin's with many in her clique, including Bella Hadid, Karlie Kloss, and Justin Bieber. While Khloé has sported Klein in the past, she's not an official ambassador for the brand. Or is she?
"Everybody thinking about the baby while I'm thinking how much money Calvin Klein had paid to Khloe Kardashian for this photo," wrote Kino War on Twitter, and honestly, he's got a point.
"How much did Calvin Klein pay Khloe in sponsors though? #Khloe Kardashian," echoed user Francesca.
While some fans are speculate about a Khloé/Calvin conspiracy, others are simply reacting to Kardashian's very long nails in the photo.
Despite her relaxed outfit, Kardashian rocks her signature talon-like nails in the snap. Those bad boys will definitely have to go when her good boy (or girl!) arrives, so I'm glad she's getting them out of her system during the pregnancy.
Oddly enough, user Bri had some beef with boyfriend Thompson's nails. "He got them demonic nails. Don't do it @khloekardashian," she warned Kardashian over Twitter. While I have not one inkling why Thompson's digits appear "demonic," I believe Bri simply has Kardashian's best interests at hand.
As for how to emulate Khloe's '90s minimalist look, her Calvin Klein sports bra is available on Calvin Klein's website for $28. While you can snag it there no problem, you may want to consider hitting up your neighborhood Nordstrom Rack. Right now, the same bra is selling for a mere $12 dollars on Nordstom Rack's site in a whole range of colors. Considering that's half off the regular price of $24 (and Kardashian just showcased it to her 70 million followers), that deal isn't going to last for long.
If you happen to have your own impending pregnancy photo shoot, do not delay. For the rest of us, the sports bra manages to look both comfy and cool, so it's not a bad combo to rock with baggy Levi's or sleek black sweatpants. Athleisure reigns supreme, amirite?