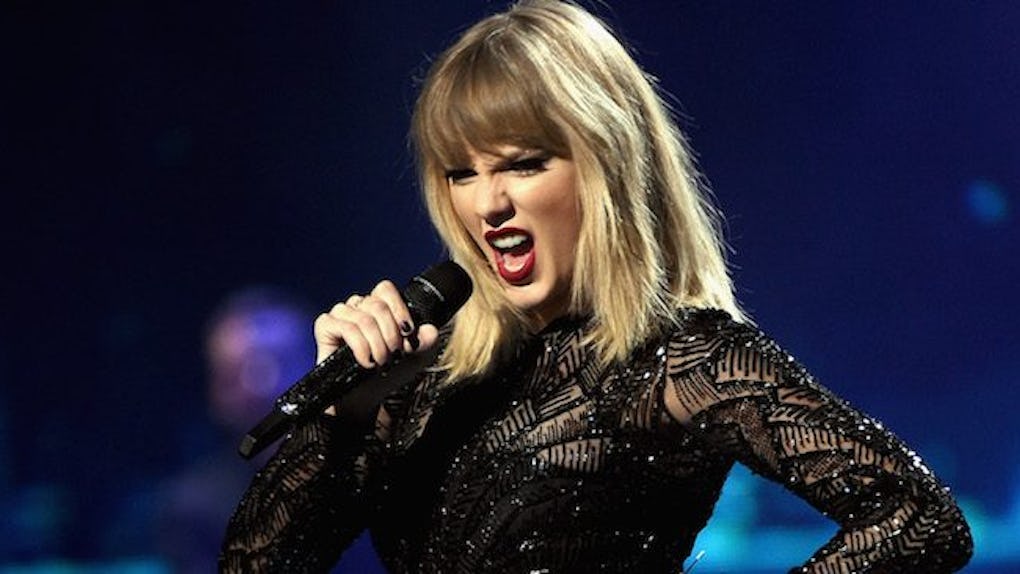 Kevin Winter / Staff / Getty Images
Tweets About Taylor Swift's Nails In "Look What You Made Me Do" & The Kardashians Show The Shade Is Everywhere
Whether you love her or hate her, you must admit one thing: fans, foes, and all of Twitter are freaking over Taylor Swift's nails in the "Look What You Made Me Do" teaser. While many are busy dissecting the lyrics as a monumental diss to Kanye West and Kim Kardashian, one look at her stiletto-shaped nails (a Kardashian signature staple) can summarize her feelings on the Kardsah Klub: I can beat you at your own game.
In the 15-second promotional video, we see Swift's long nails in not one, but two, glaringly Kardashian looks. Behold the most obvious shade: a close-up shot of the singer's pointed nails, painted a matte gold and surrounded with bling. If you didn't know that hand belonged to Swift, you could easily guess it was Kim's because it's that similar to Kim's chronically extra, manicured and blinged-out fingers. But it's not just her nails' appearance that conveys her intention, it's the way the camera closes in on her tapping them on a golden throne, as if to say, I'm ready for you.
A few seconds later, we see Taylor's tips again, transformed into a super-glossy, glamorous shade of scarlet and surrounded by snake motifs and diamonds. As she bites down on a $1 billion-dollar necklace, Taylor acknowledges the tension between herself, Kanye West, and Kim Kardashian, and it's chilling.
In case you have any doubts Taylor's digits are a Kardashian dig, consider that the Kardashian sisters have made themselves synonymous with dagger-like manicures. Remember that time Kim Kardashian actually pierced her nails?
Or how about Khloe and Kylie, in a red shade prrretty similar to Taylor's "Look What You Made Me Do" crimson.
Perhaps take a pause to contemplate that when Kim created a cartoon version of her GQ magazine cover for her own app, she chose to illustrate herself with long, slanted nails.
Let's compare again, here are Taylor's tips.
And here are Kim's.
I rest my case, but how is Twitter reacting to the mani manipulation? Some users appear dumfounded by Taylor's sly shade, others are dead, and many believe the singer is actually dead.
Other Twitter users are coming out to show support of the transformation.
And a few users just aren't buying the angsty new T. Swift.
The last tweet, an accusation that Taylor always plays the victim, seems to be gaining steam around the internet. Some people are hoping that Taylor's new album, Reputation, serves an apology and sees the star take responsibility for her part in feuds. Whatever your take on The Highest Squad Leader, make no mistake; from her lyrics to her beauty looks, the new Taylor is coming out swinging.