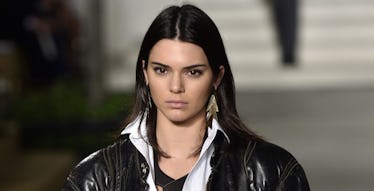 Kendall Jenner Posted A Close-Up Pic In Just Underwear And Her Waist Is Insane
REX/Shutterstock
Last night, Kendall Jenner reminded us what we all want for Christmas: a set of glorious, chiseled abs.
The 21-year-old model posted a pretty revealing shot on Instagram of her  waking up in her Calvin Klein underwear.
Kendall decided to take her face out of the picture to focus our eyes on her tan and toned physique.
She captioned the photo,
waking up in @calvinklein#mycalvins #ad
I don't know about you, but that's 100 percent not what I look like in the morning... especially during the wintertime.
It's like, negative 30 degrees outside. I go to bed in a onesie covered with polar bears. Kudos to Kendall for having such warm blood.
As much as I would love to have Kendall Jenner's abs for Christmas (and for the rest of my life), I don't feel strongly enough about them to say goodbye to bread and pasta.
If only there was a way to eat as many carbs as your heart desires and shed the pounds instantly. COME ON, SANTA. IT'S 2016. MAKE IT HAPPEN.
Kendall Jenner takes lots of hot pics in her Calvins, you know, because she's part of the campaign.
Remember that one time she wrestled a bunch of hot men while basically naked in just her Calvins? Best ad ever.
Honestly, that was art.
Kendall Jenner's Instagram is packed with pics of her in her undies. In the one below, she's either dripping wet from a shower or covered in sweat.
So mysterious, the world will never know!
In this one, she's cradling her boobie and protecting it like a newborn child. IT'S INTIMATE AF.
This one is deep too because it looks like she's trying to hold something, but there's nothing in her hands. Is it a metaphor?
Here she looks like a sexy Sleeping Beauty. This wouldn't be approved by Disney, but like, I'm into it.
JUST A GIRL WHO LOVES HER CALVINS, LIVING IN A WORLD THAT LOVES HER BUTT.
I'm sorry, I'm done. Happy holidays everyone!
Love,
Me, Kendall and Calvin
Citations: Kendall Jenner In Calvin Klein Underwear (Daily Mail)