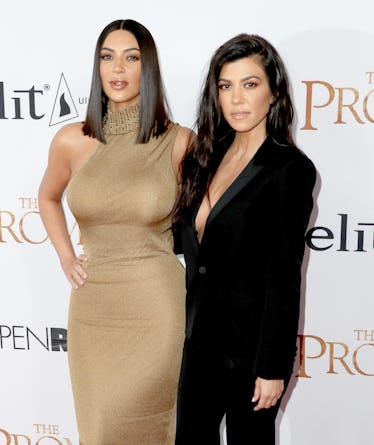 Kim Kardashian Just Shaded Kourtney & Their "Feud" On Instagram In The Most Kim K Way
Frederick M. Brown/Getty Images Entertainment/Getty Images
The supposed feud between Kim Kardashian and her older sister Kourtney is still heavy on the sisters' minds. While the two hashed it out on the season premiere of Keeping Up With The Kardashians, the two sisters continued their bickering on social media even in spite of being "good" with each other. And now Kim is revving up the fans even more with an epic Instagram post. Kim Kardashian shaded Kourtney on Instagram by posting a photo with the rest of her sisters and only including Kourtney in the caption.
In the photo, Kim and most of her sisters (Khloé, Kendall Jenner, and Kylie Jenner) are gathered around each other and posing for the camera. Kourtney is missing from the group shot, which will probably set some alarm bells off for fans of the Kardashian-Jenner clan. But Kim wanted to cut them to the quick right away with a super shady caption.
"Sisters about to turn up tonight for Ky's birthday!!!!" Kim wrote. "*Don't worry Kourtney included."
The sisters were preparing for Kylie's 21st birthday, which is on Aug. 10, so they're starting the celebrations early.
In any case, even though Kourtney wasn't in the photo, Kim's caption makes it sound like she was there in spirit. Or maybe she was just standing off camera.
To catch you up on the drama that's been swirling around Kim and Kourtney, here's a rundown:
Basically, Kim and Kourtney got into a tiff during the premiere of Keeping Up With The Kardashians about their work schedules and which Kardashian sister is the most interesting to look at.
At one point, Kim started yelling at Kourtney about how she doesn't know what it takes to run a business with passion, saying:
Maybe if you had a business that you were passionate about then you would know what it takes to run a f*cking business, but you don't. So don't even act like you know what I'm talking about.
Yikes! When their mom Kris Jenner tried to break it up, Kim continued on her insulting tirade with:
I need Kourtney to not be so f*cking annoying with this stick up her ass like she f*cking runs this sh*t because she doesn't. She's the least exciting to look at.
Oof. Kourtney didn't exactly take kindly to those harsh words, which is understandable. Thankfully, the sisters always bounce back strong from their incessant arguments.
A source recently told People magazine that this stuff happens in the Kardashian clan all the time:
Kim, Khloé and Kourtney get in tiffs all the time. This is nothing new. Kim has been on the outs with Kourtney and Khloé before, but right now, Khloé and Kim are on the same wavelength. They both have new babies and they have a lot in common and a lot to share.
So, this is all par for course. And, of course, it makes for some amazing reality TV. Guess everyone will have to wait for the rest of the season to unfold to see how this "feud" ends! It's going to be an eventful season, for sure!