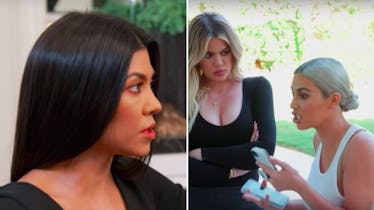 Kourtney K Had The Most Heartbreaking Reaction To Kim Criticizing Her Looks
YouTube
The newest season of Keeping Up With The Kardashians is looking INTENSE, you guys. If you've been watching the trailers for what's to come in season 15, you'll see that the drama runneth over with all of the Kardashian siblings. In one clip, the world saw Kim unleash some major fury on Kourtney for (what I believe to be) a relatively unimportant matter. But honestly, it was Kourtney Kardashian's reaction to Kim calling her the "least exciting" to look at that just absolutely broke my heart.
In case you missed it, an exclusive clip from Sunday's episode of KUWTK showed the world two sisters who are at odds with each other. Kim and Kourtney were arguing about the scheduling of a family photo session, and there was an apparent conflict in the timing.
Kourtney requested that she be finished with the shoot by four o'clock, which Kim was not having. Kim thought that Kourtney was being difficult and unwilling to move around her schedule to appease her, so she told Kourtney, "No one wants you in the f*cking shoot. Get the f*ck out of here and go," adding that Kourtney was "so f*cking annoying with a stick up her *ss like she f*cking runs this sh*t."
OK, Kim, tell us how you really feel.
As Kourtney walks out of the room (which, kudos to her for doing), Kim says that Kourtney is "the least exciting to look at" out of all of her siblings.
Personally, I feel like that was so uncalled for and Kourtney was undeserving of that insult. And in a new exclusive clip of Keeping Up With The Kardashians, we get to witness the aftermath, and it will leave you devastated.
After Kourtney leaves, she calls Khloé and breaks down to her (who, by the way, is still sitting with Kim and Kris Jenner, listening to the call on speakerphone), and shares what's going through her head.
"I'm not here to be mistreated by my f*cking b*tch family. Kim saying that I'm the least interesting to look at — who even speaks like that?" she sobs.
Honestly? She's not wrong.
Kourtney continues, adding, "You guys just have really different values than me. I choose to be a mother to my three kids. I am not here looking for another job. I already work enough, more than I would like to."
PREACH, Kourtney.
But enter an angry Kim, who yells, "You don't do f*cking sh*t! You would honestly think that we have more jobs, so work around our schedule."
And she keeps going, telling Kourtney, "You do whatever the f*ck you want to do and you don't do sh*t, so be accommodating to the people who actually do sh*t."
Is it just me, or is Kim wayyyy out of line here? To be annoyed that your sister won't be as accommodating as you'd like is understandable, but to hurl insults left and right is just totally off-base, and so Kourtney lays it all out for Kim.
She calls Kim a "very distraught, evil human being," and tells her, "I'm not going to live my life around people that make me not feel good on a daily basis."
Once again, a standing ovation for Kourtney for trying to take the high(er) road here. So, Kim decides that, since she's crossed the line a million times already in one conversation, why not take it one step further?
"Well, clearly you're going through something else, because you're acting like a f*cking lunatic. So maybe deal with that."
"Oh my god, Kimberly. That's not OK to say," Khloé juts in, which HALLELUJAH, someone finally sticks up for Kourtney!
"What I said was rude and I wasn't even being serious. I said I'm sorry for that, but you're the most entitled f*cking person on the planet when you work the least," Kim continues.
Hey, you know when you apologize to someone but you don't really mean it, so you say, "I'm sorry, but..." and then hurl a bunch more insults at them? Kim has clearly mastered that trick very well.
Kourtney ends the feud by simply telling Kim that doing photo shoots all day long is "not important" to her, and isn't "one of her jobs." Kim finishes off the conversation by telling Kourtney that it would be "perfect" if she didn't come anyway.
All of this is just too much for me to handle, TBH. I can't even imagine what the rest of the season is going to look like if this is just the beginning. Let's all just say a little prayer, shall we?