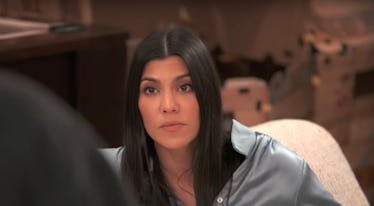 Kourtney Kardashian "Doesn't Want To Be A Kardashian Anymore" In New 'KUWTK' Trailer
E!
The Kardashian news has been nonstop for the last few months, and now we're finally about to get an inside look at all the wild antics in the upcoming season of Keeping Up with the Kardashians. The new Keeping Up with the Kardashians Season 15 trailer goes deep into all the drama we've been hearing about for months, as well as some surprising new stuff that we had no idea about, like Kourtney Kardashian apparently not wanting to be a Kardashian anymore!? Wow, this new season cannot come soon enough.
With all that has happened in the KarJenner universe since last season of Keeping Up with the Kardashians ended at the beginning of 2018, it's no wonder that the new trailer is absolutely packed with drama, and promises that Season 15 will be one of the wildest seasons yet. Of course, the family's big baby boom will be a huge part of the new season, now that Kim Kardashian, Kylie Jenner, and Khloé Kardashian have all welcomed daughters (Chicago West, Stormi Webster, and True Thompson, respectively), but the real focus of the new trailer is a massive blowup between Kourtney Kardashian and the rest of her family.
The clip starts off with Kourtney yelling at her sisters: "I'm not going to be around people that bring me down on a daily basis." At the end of the video, Kourtney has stormed out of the house, and Kim laments that her older sister "no longer wants to be a Kardashian." Check out the newly released Keeping Up with the Kardashians Season 15 trailer below:
Hmm, so what's causing this friction between Kourtney Kardashian and her sisters? Although we usually know most of what's going on within the lives of the Kardashians, this blowup kind of feels like it's coming out of left field. Maybe her sisters don't approve of her relationship with Younes Bendjima, or maybe Kourtney is fed up with Khloé's ex Tristan Thompson after his cheating scandal, or Kim's husband Kanye West for his controversial statement about Donald Trump and slavery over the past few months. Really, there is just so much going on with this family that anything could have caused this drama.
As most long-term fans of Keeping Up with the Kardashians probably know, Kourtney Kardashian has always been the family member who says she is the least comfortable with having her life filmed for their reality show. There have been rumors for years about Kourtney reportedly wanting to quit the show when major life events happened to her — such as giving birth to her three kids or her dramatic breakup with Scott Disick — but regardless of those persistent rumors, she has never missed a season of Keeping Up with the Kardashians. Maybe this is the season when the stress of filming a reality show finally becomes too much for her? That's kind of what I'm thinking, to be honest.
The bit about Kourtney not wanting to be a Kardashian anymore is actually shown in a previous Season 15 teaser as well, and that clip also features Khloé's response to the Kourtney drama — which is pretty much exactly what you would expect Khloé to say:
She could shove "Kardashian" up her f—ing vagina.
Check out that whole trailer below:
Aside from this new drama with Kourtney, Season 15 of Keeping Up with the Kardashians promises to spill the tea on what really went down when three of the sisters gave birth at around the same time, and of course, how Khloé truly feels about the Tristan Thompson cheating scandal. Keeping Up with the Kardashians Season 15 will premiere on Aug. 5 on E!.