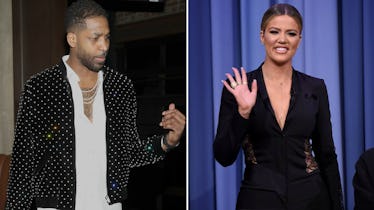 Here's How Tristan Thompson Is Reportedly Coping With Rumors He Cheated On Khloé K
Cassidy Sparrow & Jamie McCarthy/NBC/Getty Images Entertainment/Getty Images
Oh, what's that, Tristan? It's been hard to be you ever since alleged footage began circulating of you seemingly making out with someone other than your super famous and beloved long-term girlfriend and mother to your future child? Hm, maybe you should have thought of that. The aftermath of Tristan Thompson's cheating scandal is finally getting to him. Some people might be wondering how Tristan Thompson's coping with the Khloé Kardashian cheating rumors, but to those people I say — who cares? If the allegations are true (and there's strong video evidence suggesting they are), it's his own fault. But since you asked, the answer is: not great. Elite Daily reached out to both Kardashian and Thompson's teams for comment on the allegations but did not hear back by the time of publication.
If you recall, Kardashian and Thompson had been blissfully happy together for about two years (or so we thought). Fans rejoiced when it looked like Kardashian finally found the man of her dreams, someone who took care of her, supported her, and was kind to her. Fans freaked out even more when she confirmed she and Thompson were expecting their first child together. The world waited in anticipation for the little one's arrival, which came at essentially the exact same time that videos surfaced of Thompson allegedly kissing other women. It was shocking to say the very least. Elite Daily reached out to Kardashian and Thompson's teams about the said videos, but did not hear back by the time of publication.
Reports announcing Kardashian was in labor were side-by-side with images of Thompson seemingly hanging out with other women, making the delivery of their daughter, True, a particularly rocky time. Obviously, most people have been concerned about Kardashian and her feelings, though Us Weekly just recently reported Thompson is also "exhausted."
The 27-year-old NBA player is headed to the championship game with his team, the Cleveland Cavaliers, meaning his plate is extra-full. Not only does he have to win a basketball game, he also has to win over the greater population. A source told Us, "Tristan is completely emotionally and physically exhausted from the cheating allegations and of course the playoffs. He is focused on the winning a championship for Cleveland."
If he's looking for refuge from the cheating drama on the court, you better believe Kardashian fans are here to make that hard. During a recent game against the Toronto Raptors on May 1, Thompson lined himself up for a free throw and was met with a chanting crowd gleefully shouting Khloé's name.
Plus, there's this glorious meme out there:
The truth is, it looks like Kardashian has made the decision to see things through with Thompson. According to the source, she's in a particularly tricky spot because she knows she doesn't have the support of her family and friends when it comes to her and Thompson's relationship. The insider said, "She doesn't know how she's going to rebuild trust in him," adding, "She knows her family and friends aren't supporting him or her right now."
According to a different insider, Kardashian is committed to making a family for her daughter. The source told E!, "Things are more complicated now that there is a child involved, but it was causing more stress on Khloé by being in limbo with Tristan." They continued:
[Khloé] can't imagine being a single mom and giving up her dream life she had planned with Tristan. People make mistakes and she has found it in her heart to forgive him. He has vowed to change and she feels that he has learned his lesson. All eyes will be on him and he doesn't want to ever let Khloé down again.
You better not, dude. Now, take a lap.
Check out the entire Gen Why series and other videos on Facebook and the Bustle app across Apple TV, Roku, and Amazon Fire TV.