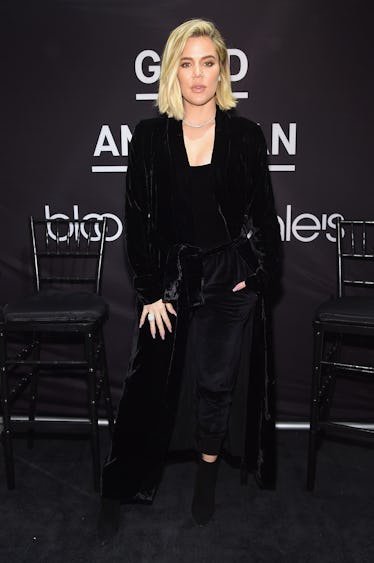 Khloé Kardashian Made A Big Move Forward In Her Relationship With Tristan Thompson
Jamie McCarthy/Getty Images Entertainment/Getty Images
I can't believe I'm saying this, but for once in my life I don't want to be Khloé Kardashian. Even though homegirl is my favorite sister, (I said it!), she has been going through it lately. As she went into labor, rumors were simultaneously circulating about her serious boyfriend, Tristan Thompson. Fans were shocked to see videos reportedly of the NBA basketball player kissing other women. Elite Daily reached out to Kardashian's team for comment on the cheating rumors, but did not hear back by the time of publication. Now, it sounds like Khloé Kardashian "set boundaries" for Tristan Thompson, but does plan on moving forward with their relationship.
The truth is, it is none of our business what Kardashian decides to do. Thompson is the father of her first child, True, after all, and what goes on behind closed doors is not up to her fans. It's just hard, right? Everyone is so invested, KoKo! Up until now, Kardashian's been laying low and taking time for herself and her baby. Still, the public has been dying to hear her thoughts on the scandal and what her plans are moving forward with her baby's daddy.
According to E! News, Kardashian recently stepped out to dinner with Thompson in Cleveland and attended his basketball game on Saturday, May 5. A source told E! News it looks like Kardashian is willing to give this another go. "Khloe has given Tristan another chance at their relationship, and is trying to put the pieces back together for the sake of True," said the insider. "Although she is crushed by the scandal, Khloe desperately wants things to work and wants to have a complete family." Elite Daily reached out to Kardashian and Thompson's teams for comment on the report but did not hear back by the time of publication.
Of course, having a child together makes things more complicated. It is totally understandable for Kardashian to want to try to work things out with True's father. After such a tumultuous relationship with her ex-husband, Lamar Odom, fans know Klo-Money gives her all in her relationships. The source expanded,
Things are more complicated now that there is a child involved, but it was causing more stress on Khloé by being in limbo with Tristan. Khloé decided that the back and forth and indecisiveness on what they were going to do was taking a toll on her. She wants to brush things under the rug and move forward.
The insider added,
Khloé has definitely set guidelines and boundaries for their new chapter. She wants to make sure she is not embarrassed and heartbroken again, but everyone is warning her. Khloé has a huge heart and once she falls, it's hard for her to give up on someone she cares deeply about. She has been in a rough spot this past month.
Uh, ya think?
Fans are also wondering about what the hell Tristan has to say about all of this. Are you sorry, bro? Embarrassed? Take it all back?
According to the insider, Thompson "knows" he messed up. They told E! he's been "trying very hard to repair the relationship since True was born," adding, "He knows his actions are embarrassing and hurtful but he wants to turn over a new leaf. He has promised many things to Khloé, and is trying to make her happy again."
Tristan, that is a long, uphill climb ahead of you.
Still, whatever the magic words were to make Kardashian take a chance on him, he must have said them. The source said:
He has fully moved back in and they are a family. He made a promise to Khloé and it was enough for her to take him back. She can't imagine being a single mom and giving up her dream life she had planned with Tristan. People make mistakes and she has found it in her heart to forgive him. He has vowed to change and she feels that he has learned his lesson. All eyes will be on him and he doesn't want to ever let Khloé down again. Khloé doesn't care what anyone thinks about what's she's doing. It's her life and this was her decision and only her decision. That's all that matters.
That is all that matters.
Check out the entire Gen Why series and other videos on Facebook and the Bustle app across Apple TV, Roku, and Amazon Fire TV.