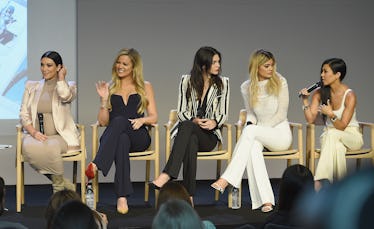 Here's Everything Khloé K's Family & Friends Have Said About Tristan Reportedly Cheating
Dimitrios Kambouris/Getty Images Entertainment/Getty Images
It must have been a cold day in hell when Tristan Thompson reportedly made the ridiculous decision to cheat on Khloé Kardashian. Fans are still grappling with the news that the seemingly perfect couple is reportedly far from it. Thompson and Kardashian welcomed their first child together, True, on April 12, 2018, just a few days after videos leaked that claimed to show Thompson kissing other women. Elite Daily reached out to Kardashian and Thompson's team for comment on the cheating reports, but did not hear back by the time of publication. Obviously, all eyes went straight to Khloé's family for their reactions. Here is what the Kardashians have to say about Tristan Thompson reportedly cheating on Khloé.
Before we get going, I'd be remiss not to mention how totally mature and civil everyone has been so far. Clearly, Khloé's feelings and her new baby are everyone's number one priority, meaning most of the family has stayed pretty mum on the subject. While fans are obviously dying for her sisters' input, it looks like the Kardashians agreed to stay quiet on the topic until Khloé figures out what she wants to do next.
So far, a few members of Khloé's inner circle have let some thoughts and feelings slip, making it sure look like the rumors are true. Here's where we're at so far.
Kim Kardashian
Kim is the first official family member to go on record about the scandal. She recently stopped by The Ellen Show, where family friend Ellen DeGeneres asked her point blank about the situation. Kim took a breath, then confidently responded, "It's just so f*cked up." She continued,
Poor Khloe. Like, I don't even know how to describe it besides it's so f*cked up. We really were rooting for Khloé and we still are. You know she's so strong and she's doing the best she can. It's a really sad situation all over.
Kim also mentioned she made a rule to never speak badly about any of her nieces' or nephews' parents, but was obviously struggling with this situation. She told Ellen,
I kind of made this rule with my brother. If there's a baby involved, I'm gonna keep it cute and keep it classy, and not talk too bad. I'm going to try not to say anything so negative, because one day, True is going to see this. You know, it's just so messed up.
Kanye West
Technically, 'Ye didn't address the cheating rumors directly. However, he did wink at Thompson on Twitter.
After making a triumphant return to Twitter, West went on one of his signature rants covering topics like his money, Donald Trump, and calling his home "the sunken place." At the very end of his Twitter storm, he posted, "That's the last tweet of the day. I did that one for my god-brother Puff. Now ima go watch the Cavs."
In case you didn't catch the reference, West is talking about the Cleveland, Cavaliers, aka the NBA basketball team Thompson plays for.
No one really knows if this was shade or support for Thompson, but it was weird AF either way.
Kris Jenner
Momager and family matriarch, Kris, hasn't said anything to the media, but plenty of sources commented on how quickly she rushed to Khloé's side when she went into labor. (This was basically the same time the cheating rumors started circulating.) A self-proclaimed family friend named Lisa Stanley told Australian radio show KIIS 101.1 Jenner is doing all of the "damage control." Stanley said,
[The Kardashians] have a meeting. No matter where everyone is, they're on a phone, whether it's FaceTime, or on [the] phone. Kris leads the meeting, and they do damage control and decide how they're going to handle it. In this case, it was obvious. Khloé is definitely not going to say anything. She's about to give birth to a child.
Brody Jenner
Oh yeah, remember Brody? Khloé's stepbrother (on Caitlyn Jenner's side) reportedly called the whole ordeal "a f*cking mess" while DJ-ing in Las Vegas in April.
A source told US Weekly that despite losing touch with the Kardashians since their parents divorced, he "feels terrible for Khloé and that baby."
The Haqq Sisters
To be honest, I'm waiting for Malika to go IN on Thompson. Khloé's ride-or-die bestie has been by her side through thick and thin, and fans can assume the couple didn't have a bigger cheerleader until now.
While Haqq, like everyone, has stayed fairly mum on the subject, she did post a supportive message to Khloé on Instagram that also threw subtle shade at Thompson. After Khloé delivered True, Haqq posted a gorgeous picture of her friend on Instagram with the caption, "Right by your side. Congrats my love! Thank you for my niece."
Haqq's twin sister and close family friend, Khadijah, tossed even denser shade at Thompson on Twitter. She posted the quote, "The best thing a father can do for his children is to love their mother — John Wooden."
While sisters Kourtney, Kylie, and Kendall have yet to comment, it's safe to assume the family is rallying around Khloé and True like whoa right now.
I know I'm not on the "inside" or anything, Khloé, but about 76 million of your fans have your back, too.
Check out the entire Gen Why series and other videos on Facebook and the Bustle app across Apple TV, Roku, and Amazon Fire TV.