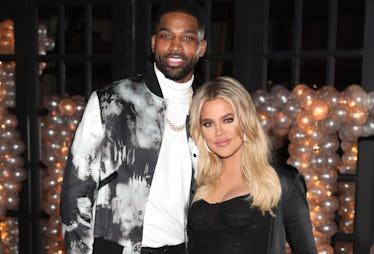 This Update On How Khloé K Is Coping With Tristan Thompson Cheating Rumors Is So Sad
Khloé Kardashian has barely given any updates on her personal life ever since reports of Tristan Thompson's cheating came about three weeks ago on April 10. The only updates we've gotten have been from an interview Kim Kardashian did with Ellen DeGeneres and reports from anonymous sources. One thing she has done, however, is deactivate fans' ability to comment on her past Instagrams of her and Thompson. Now, this new update on how Khloé Kardashian is coping with Tristan Thompson cheating rumors is one of the few updates we've gotten on how she's doing emotionally.
"Khloé is taking it one day at a time with Tristan," a source told E! News. "She is glad he is helping her out with True, but she has also been spending a lot of alone time reflecting." That seems OK enough, right? It gets worse. "They don't speak much about the situation," the source said, "and Khloé feels like she is living in her own personal hell. The only thing keeping her happy right now is True and the support from her family." Khloé, noooo. Elite Daily reached out to Kardashian and Thompson's teams for comment on this new report, but did not hear back by the time of publication.
Kardashian, according to E! News, is ready to move back to L.A. with baby True and is just waiting for the right time to do it.
"Everyone is ready for her to come home and thinks it will give her more peace," the source said, adding that Thompson is reportedly trying hard to make amends to no avail. "Tristan has desperately been trying to keep Khloé happy and make their relationship work, but she thinks it's too far done." I'd say reportedly cheating days before your girlfriend goes into labor is definitely cause to label something "too far done." That is some messed up stuff right there that no one should have to experience. And Kim Kardashian agrees (as does the whole family, probably).
In an interview on The Ellen Show that aired on Monday, April 30, Kim Kardashian talked about how she feels about the whole scandal.
"Poor Khloé," she started. "Like, I don't even know how to describe it besides it's so f*cked up." She continued,
I feel like Khloé always dives into relationships and puts her whole heart into everything. I mean, she moved [to Cleveland], and I've seen her be in a really tough situation before in her last relationship [with Lamar Odom]. And I think the family just gets so emotionally invested in whoever each other is with. We treat them like everything. We give them our whole soul. We really were rooting for Khloé and we still are. You know she's so strong and she's doing the best she can. It's a really sad situation all over.
Kardashian also revealed that whenever Khloé is going through a trying time, she tries to deal with it privately before even telling her family, let alone allowing it to go public. (The reports of Thompson's cheating were out of her control, however, since the videos were published by The Daily Mail and TMZ. Elite Daily reached out to Kardashian and Thompson's teams for comment on the reports but did not hear back by the time of publication.)
Kardashian told DeGeneres, "When she's gone through really tough things in the past, she's always kept that from us and kind of dealt with it until it became public. Stuff with Lamar was going on for a year and we didn't know about it." She added, "She does such a good job of keeping that so private, so because this is not so private, I think she's just like, 'I need a minute to myself.'"
Fans noticed on May 2 that their ability to comment on some of Kardashian's photos had been disabled, so it's clear that she's trying to give herself distance from the world and its criticism for now.