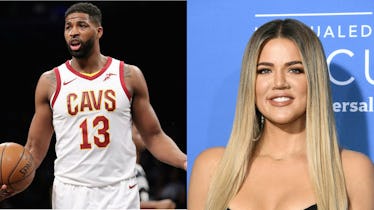 Khloé Kardashian Is Shutting Down Comments About Her Relationship On Instagram
Dia Dipasupil/Getty Images Entertainment/Getty Images & Abbie Parr/Getty Images Sport/Getty Images
Well folks, the most dramatic Kardashian saga continues. By now everyone knows about the drama brewing between Tristan Thompson and Khloé Kardashian, but it looks like one of them is totally done with those pesky internet trolls. How so? Well, Khloé Kardashian disabled comments on Instagrams with Tristan Thompson, so I guess she's done with this drama (on social media, at least).
Before I go on, let me pour this tea very quickly. On May 2, fans started noticing that Kardashian had disabled all Instagram comments on pictures of her and her Cleveland Cavaliers player boyfriend Tristan Thompson. When I say all pictures, I mean all of them. Kardashian seemed to disable Instagram comments on photos of her and Thompson from photos dating all the way back to Jan. 2. Clearly Khloé is through listening to other people's opinions, and honestly who can blame her? I'd be disabling my comments too if I had to deal with the huge amount of trolling social media users have been inflicting on this couple. However, I'd like to think it's also Khloé's way of throwing some shade at Mr. Thompson during this turbulent time.
For those who have been living in solitude the past few weeks, here's a rundown on what you've missed. On April 10, The Daily Mail released a video reportedly showing Thompson kissing a woman at a New York City club, only days before Kardashian's reported due date. Elite Daily reached out to Kardashian and Thompson's teams for comments on reports at the time, but did not hear back. Since then, Us Weekly reported that Thompson had allegedly been with five women since November 2017 and had allegedly been unfaithful to Khloé throughout her pregnancy.
So yeah, I wouldn't want to hear strangers' opinions on the whole thing either.
Since these reports surfaced, everyone, and I literally mean everyone, is hurting for Khloé. While appearing on The Ellen DeGeneres Show on April 27, Kim Kardashian West spoke about her sister's struggles and the hardship she's going through.
"Poor Khloé," Kim said. "Like, I don't even know how to describe it besides it's so f*cked up. We really were rooting for Khloé and we still are. You know she's so strong and she's doing the best she can. It's a really sad situation all over."
So sad indeed. I, like the rest of the Kardashian family, was completely rooting for Khloé and Tristan. But despite the heartbreak the Good American designer might be feeling, at least there's some good news underneath all the drama. On April 12, Khloé Kardashian and Tristan Thompson welcomed their baby girl True Thompson into the world. To celebrate her new motherhood role, Kardashian took to Instagram on April 16 to celebrate True's birth and shared a gorgeous pink-toned photo.
She wrote,
Our little girl, True Thompson, has completely stolen our hearts and we are overwhelmed with LOVE. Such a blessing to welcome this angel into the family! Mommy and Daddy loooooove you True!
Even though the birth of True surely lifted Khloé's spirits, sources told E! News in April that Kardashian is reportedly "distraught" over the alleged cheating reports.
The source reportedly said,
Her entire world has been turned upside down. She cried hysterically all night. She begged to come back to L.A. and tried to find any way to make it work but her doctor wouldn't let her. She just wants to be with her family and leave as soon as possible. Kris is there and completely supporting her. She will obviously never be able to trust Tristan again or look at him the same way. Her world is shattered. She is in complete disbelief that this is happening. The family absolutely believes it's in Khloé's best interest to end the relationship but will support her either way.
Despite her devastation, no one can really be sure what's happening between the two. One source told People that Khloé has "basically forgiven" Tristan since she gave birth to True. I may have my opinions on the situation, but I understand strong emotions may get the best of us sometimes.
There you have it everyone, the latest development in this Kardashian debacle. At least we won't have to read those nasty Instagram comments anymore.