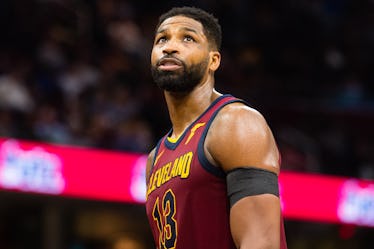 Tristan Thompson's First Instagram After The Cheating Rumors Is Getting Roasted
Jason Miller/Getty Images Sport/Getty Images
Another day, another development in this Khloé Kardashian/Tristan Thompson saga. The Cleveland Cavaliers player has been keeping it pretty low key since those alleged cheating rumors surfaced, but it looks like he might be making a triumphant return to social media. However, Tristan Thompson's first Instagram since the cheating rumors doesn't answer any of our burning questions and people aren't happy.
On April 29, Thompson broke his social media radio silence by posting an Instagram celebrating the Cleveland Cavaliers 105-101 win against the Indiana Pacers. This is Thompson's first Instagram post since April 4, but it's not what I personally expected.
He wrote,
WHAT AN ATMOSPHERE IN THE Q!! GREAT WIN #OnToTheNextOne
Even though it's not surprising that Thompson is celebrating his team's close win, the basketball player has had some other exciting news that warrants at least one Instagram post. On April 16, Thompson and Khloé Kardashian welcomed their baby girl True Thompson into the world. Despite True's much anticipated arrival, Thompson has yet to take to address his daughter's birth. This is definitely not the case for Khloé, who immediately posted a gorgeous photo celebrating her role as a new mom.
Since Thompson posted the photo, Instagram users have been roasting him through comments.
A user wrote: "You lost a lot more. Winning is about the last thing you doing👎👎👎"
Another pointed out some irony: "Bad timing for that hashtag."
One comment spoke some hard truth: "Wish you're a better man to your woman, as you are a player #justsayjng #youeffedupbro"
Since The Daily Mail first reported on April 10 that Thompson had allegedly been cheating on Khloé during her pregnancy, the entire internet has gone into a downward spiral. Elite Daily reached out to Kardashian and Thompson's teams for comment on the reports at the time, but did not hear back.
The past few weeks have truly felt like a real life soap opera, but more mysterious. Despite numerous reports, Thompson has yet to address the alleged cheating rumors. However, that hasn't stopped the Kardashian family from speaking about the matter. On April 27, Kim Kardashian-West appeared on The Ellen Show and threw her two cents in about her sister's current situation.
"Poor Khloé," Kim said. "Like, I don't even know how to describe it besides it's so f*cked up ... We really were rooting for Khloé and we still are. You know she's so strong and she's doing the best she can. It's a really sad situation all over."
It truly is. If I'm this devastated about the news I can't imagine what Khloé is going through.
Once the cheating rumors surfaced, a source spoke to E! News on April 11 about how the Good American designer was handling the news, and it's heartbreaking. According to the source, Khloé was "distraught" over the reports.
The source said,
Her entire world has been turned upside down. She cried hysterically all night. She begged to come back to L.A. and tried to find any way to make it work but her doctor wouldn't let her. She just wants to be with her family and leave as soon as possible. Kris is there and completely supporting her. She will obviously never be able to trust Tristan again or look at him the same way. Her world is shattered. She is in complete disbelief that this is happening. The family absolutely believes it's in Khloe's best interest to end the relationship but will support her either way.
The past few weeks have definitely been bittersweet for the Kardashian family to say the least. However, I have no doubt that this family will come together and end up stronger than ever before.
If I were Tristan, I'd be drafting the most incredible Instagram apology in social media history right about now.