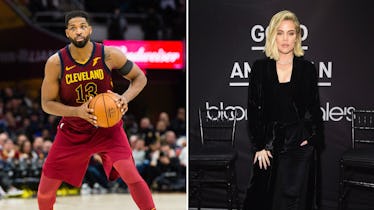 Fans Chanted "Khloé" At Tristan Thompson During His Last Game & It's Cringeworthy
Jason Miller/Getty Images Sport/Getty Images/Jamie McCarthy/Getty Images Entertainment/Getty Images
If you think that Khloé Kardashian/Tristan Thompson news is coming to a close sometime soon, I hate to be the bearer of bad news, because it seems like it's only just beginning. And unfortunately, it looks like the drama is still spilling over from Thompson's personal life into his career, which can't be helping the matter. On May 1, Thompson's team, the Cleveland Cavaliers, played against the Toronto Raptors, where fans chanted "Khloé" at Tristan Thompson during his game — and hearing it will seriously make you cringe.
Here's what happened: Thompson was readying himself for a free throw, but Raptors fans decided to try and mess up his focus by repeatedly yelling "Khloé!" and, while he still sunk the shot, there's no way that Thompson didn't hear the chanting. The Cavaliers ended up beating the Raptors, but there have been quite a few times in the last few weeks where Thompson's game has certainly been affected from the drama of everything that's been going on.
And by "drama," I mean the details that came out on April 10 that Thompson, who was in New York City with his teammates, was spotted on Saturday, April 7, at a rooftop bar and lounge, reportedly kissing another woman who wasn't Khloé Kardashian. According to The Daily Mail, footage was obtained that showed Thompson with a mystery woman, and the person who reportedly filmed the video said that it was "obvious" that the two were hooking up all night. Elite Daily reached out to Kardashian and Thompson's teams regarding the report but did not hear back by the time of publication.
Then, of course, more surveillance footage was obtained by TMZ that appeared to show Thompson hanging out with three women at a hookah lounge near Washington, D.C. back in October of 2017. TMZ claims the video shows Thompson kissing one woman and putting his face in another's chest. Elite Daily reached out to Thompson and Kardashian's teams regarding the TMZ report but did not hear back by the time of publication.
Lastly, Thompson has been photographed with one woman "multiple times over the past five months," according to The Daily Mail, and the two have reportedly dined out and partied together several times, all while Kardashian was at home pregnant with Thompson's child. Elite Daily reached out to Thompson and Kardashian's teams regarding this report but did not hear back by the time of publication.
I mean, really, dude?
Needless to say, fans of the couple have been disappointed in the reports, and Thompson's career has been affected in a few ways because of the allegations.
For instance, the Cavs played against the Indiana Pacers on Wednesday, April 18, and Tristan Thompson was benched from the playoff game amid rumors that he cheated on Kardashian. Thompson had played with his team three days prior, when he "only played a total of two minutes" during the game and was reportedly booed by fans, according to People.
Even his return to social media has been affected by the cheating allegations. Thompson's first Instagram post since the cheating rumors was all about celebrating the Cleveland Cavaliers 105-101 win against the Indiana Pacers, but his post was endlessly trolled by fans. On April 29, he wrote,
WHAT AN ATMOSPHERE IN THE Q!! GREAT WIN #OnToTheNextOne
One user tore Thompson a new one, writing, "We stand for Khloe !!! You pr*ck !!!"
Another user wrote, "#ontothenextone might not be the most appropriate hashtag choice but at least you let us know..."
And one user pointed out that Thompson's remained radio silent about the birth of his daughter, writing, "Where is the picture of Khloe or your daughter???"
My expectation level for Thompson right now is pretty much at zero, so from this point on, I'm going to put all of my effort into sending good vibes to Kardashian and her new baby daughter, True.