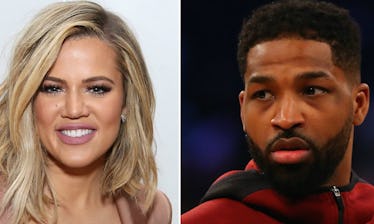 Khloé Kardashian & Tristan Thompson Are "Fully Back Together," New Report Says
CINDY ORD/MIKE LAWRIE/GETTY IMAGES
Ever since Tristan Thompson's cheating allegations hit the news, fans have swept to Khloé Kardashian's defense, trolling the basketball star on and off social media. But before you head to Instagram and slam Thompson for the umpteenth time, you should probably know that Khloé Kardashian and Tristan Thompson are "fully back together," according to a new report by Us Weekly. I guess the past is in the past, right?
That's what it seems like, at least. A source told Us Weekly that Kardashian is sticking by her man because she's "still in love." The insider told the publication that the new mother feels "the whole world is against Tristan." The source reportedly added, "No one in her world is supporting Tristan and she's still in love with him."
Elite Daily reached out to Kardashian and Thompson's teams for comment about them being back together, but has not heard back by the time of publication.
To say absolutely no one in Kardashian's world is supporting Thompson could be a stretch, but there's one person who has seemingly made her feelings about him crystal-clear: Kim Kardashian. On April 30, the beauty star appeared on The Ellen Show to discuss Thompson's cheating allegations, and her comments were rather interesting. She began, "Poor Khloé. Like, I don't even know how to describe it besides it's so f*cked up."
She continued,
I feel like Khloé always dives into relationships and puts her whole heart into everything. I mean, she moved [to Cleveland], and I've seen her be in a really tough situation before in her last relationship [with Lamar Odom]. And I think the family just gets so emotionally invested in whoever each other is with. We treat them like everything. We give them our whole soul. We really were rooting for Khloé and we still are. You know she's so strong and she's doing the best she can. It's a really sad situation all over.
After the interview aired, Kim and Thompson reportedly unfollowed each other on social media, per E! News.
Thompson's cheating rumors first swirled on April 10 when The Daily Mail and TMZ released videos that seemingly showed Thompson making out with multiple women. Elite Daily reached out to Kardashian and Thompson's teams at the time for comment on the alleged affair, but did not hear back by the time of publication.
Regardless of how anyone feels about Thompson, he and Khloé have apparently been taking things a day at a time. And with a new report by TMZ stating the duo was seen together on Friday, May 4, it seems like they could possibly be making some real progress to get back in a good space. It's surely a huge contrast to previous reports on the state of the couple's relationship.
For example, on April 25, a source told Entertainment Tonight that "Khloé and Tristan continuing as a couple isn't a sure thing," insisting the two were "not in a good place." The insider continued, "Khloé is still upset over everything that came to light regarding Tristan, and is taking time to enjoy being a new mom before deciding the future of her relationship." Even so, the source said the new mom was looking forward to returning to Los Angeles to be back with her family, which seemingly meant that a breakup (or at least a break) was gonna happen.
"Khloe is planning to head back to LA soon, because she wants to be surrounded by her family and friends as she goes through this difficult time," the source concluded. "Khloe is a strong woman, but like everyone she needs the support of her loved ones."
Only time will tell where Kardashian and Thompson go from here. But good luck to them on their journey.