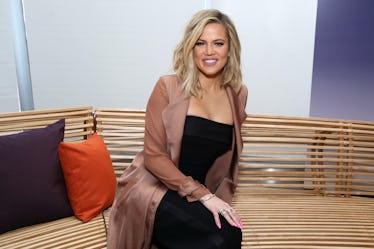 Khloé K Shared What She Hopes Her Baby Will Inherit From Her & Tristan & It's So Cute
Cindy Ord/Getty Images Entertainment/Getty Images
Khloé Kardashian's first child will be arriving any day now. While she waits for the arrival of her and Tristan Thompson's daughter, she's been posting on her app and on social media to keep fans in the loop before she gives birth. She most recently interacted with a fan in the comments section of her Instagram. In the comment, Kardashian said she's super anxious about breastfeeding. But she also opened up about the baby on her app, and Khloé Kardashian's post about her baby girl and Tristan Thompson will melt your heart.
When responding to a fan's comment warning her about what to expect when breastfeeding, Kardashian said, "Oh my gosh I'm nervous about breastfeeding. I hear crazy things but I'll fight through it and love it." This interaction went down in the comments section of Kardashian's most recent maternity photo shoot post on Monday, March 26. She has already posted a couple of other pregnancy photos with Tristan Thompson, but this one shows them standing in a kitchen with the caption, "Mommy and Daddy."
In a post on her app on March 26, Kardashian laid out which personality traits she hopes her daughter will inherit from each of her parents.
She said in the post,
I can't wait to meet my baby girl! I often think about what she'll look like and what her little personality will be like. She'll be the perfect mix of me and Tristan — which is such a crazy thought, LOL. I want maybe [Tristan's] IQ and my street smarts. We are both charming but [Tristan] is pretty cute!
This is pulling on my heartstrings, fam. I've had baby fever ever since my niece was born seven months ago and all of these Kardashian/Jenner babies are not helping. Speaking of the Kardashian/Jenner clan, the family is ready to fly over to Cleveland once Khloé goes into labor, but Kris Jenner will reportedly try and be there before the baby is born, according to reports.
A source confirmed to People that Kardashian is planning on giving birth in Cleveland, Ohio (where Thompson lives), and has already settled into his house there to prepare for the baby's arrival. "Khloé is in Cleveland and plans to stay there until the baby is born," the source said. "She is too far along to fly back and forth. She is doing great and seems very happy every day." They made note that the family is planning on flying out to Thompson's home once "baby time" has arrived. "Her family is flying to Cleveland when it's baby time," they said. "Khloé especially wants Kris there for the birth."
And Grandma Kris definitely plans on witnessing the birth! A source told Entertainment Tonight, "Grandmother Kris [Jenner] has never missed the birth of a grandchild," so she's ready for this baby, come what may. The source also told Entertainment Tonight that Kardashian's siblings all have their travel plans set for when the baby comes.
Kim Kardashian, Kylie Jenner, and Khloé Kardashian all had baby bliss in 2017. Khloé was the second to confirm she was expecting a baby, although her due date was after Kylie Jenner's. But for a brief moment in time, Khloé Kardashian and Kylie Jenner were pregnant together! Kardashian says she misses those days with her youngest sister.
In an Instagram post on Friday, March 23, Kardashian posted a selfie of her and Jenner that shows both of them with blonde hair. She captioned the selfie, "I miss you!!! (We were both blonde and pregnant here 😩)."
Now that Kardashian is the last of her sisters to welcome a baby girl this year, a source told People that she's nervous for the birth but is ultimately ready to meet her daughter. "[Khloé] is a bit nervous about the birth, but mostly excited," they said. "She is taking it easy in Cleveland, getting everything ready and she can't wait to meet her baby girl." Now all there's left to do is wait!