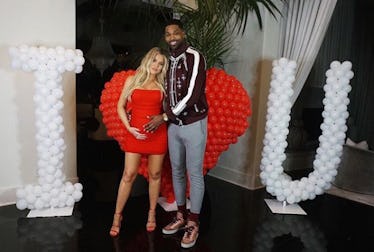 Khloé Kardashian Just Shared A New Pic From Her Pregnancy Shoot & It's Gorgeous
Instagram/Khloé Kardashian
I am not done staring at photos of pregnant Khloé Kardashian. She's stunning. Ethereal. A temple of life. Literally, just so glam. She's been serving us some fierce baby bump images since announcing her pregnancy in December, but all of them pail in comparison to her latest photo masterpiece. Khloé Kardashian's pregnancy shoot with Tristan Thompson is out of my fantasy dreams, and yes, I know what that sounds like.
I should warn you guys, there's a lot to take in. Before scrolling ahead to get to the picture, I want you to prepare yourself for a few things. First, Thompson is shirtless. I just like to give everyone the heads up when professional athlete muscles are involved. Second, Kardashian is wearing the most gorgeous robe/lingerie ensemble and I am furiously googling knockoffs to wear around my living room as we speak. Third, there is a bed involved that is the size of my entire studio apartment.
Kardashian exclusively shared the image on her app for her fans to drool over with the following message:
Being pregnant has always been a dream of mine. Even though 9 months feels like a lifetime while I'm awaiting the arrival of my baby girl, it's really a blink in the grand scheme of life. I know I'm going to miss my belly so much once she's here, I had to capture the beautiful process that is pregnancy so I can always look back at this time. Thank you Sasha Samsonova for this special photo shoot! Also, shout-out to my glam team who helped me look and feel like a goddess: Hrush, Andrew and Jill.
Mmk. You ready for this?
Here we go.
UH-BUH-BAM!
How's everyone doing? I TRIED TO WARN YOU ABOUT THE PROFESSIONAL ATHLETE MUSCLES.
This photo is part of the same pregnancy shoot Kardashian gave us a sneak peek at earlier this week on her Instagram account.
On March 21, Kardashian posted a solo shot in a different bra and underwear set while looking off into the distance next to some plants.
I can't tell you the amount of time I've spent standing next to plants since seeing this image. (FYI, it does not turn you into a Kardashian. Weird.)
Kardashian is always using her website and app to let fans in on her personal life and they so appreciate it. One of my favorite posts is when she filled the public in on how she knew Thompson was "the one."
She explained,
My answer for this probably doesn't apply to everybody, but I knew Tristan was the one very quickly—I have never felt so comfortable or so safe with someone. Because of that, I took it very slowly and was cautious about how I went about 'us.' I made sure we had very in-depth conversations. I wanted to make sure that those conversations were backed up by actions.
She also mentioned how important it was for her and Tristan to be open with one another about their lives:
Tristan was so forthcoming with his life, as I was with mine. It was really reassuring to feel that someone had the same belief systems as I did. We spoke about religion, children and our families. I think all of those things are important to truly know the ins and outs of someone. It's really easy to fall in love with someone during a honeymoon phase when you haven't yet discussed the logistics of life. But you have to talk about the real things if you want a real/long-lasting relationship.
Now, here they are. Taking pregnancy pics and becoming parents. Man, they grow up so fast, don't they? Baby Thompson could honestly be making her debut any day now, and I am living for it.
In the meantime, Khloé, there's no chance you picked up that silky robe at Target, is there?
Check out the entire Gen Why series and other videos on Facebook and the Bustle app across Apple TV, Roku, and Amazon Fire TV.