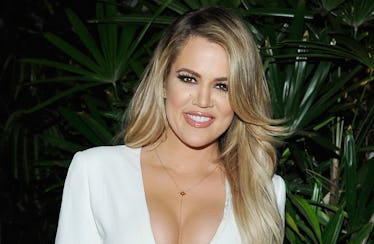 Khloé Kardashian Just Made A Huge Move Leading Up To The Birth Of Her Daughter
Khloé Kardashian and Tristan Thompson are just weeks, maybe even days, away from welcoming their daughter into the world. The couple, who announced they're expecting their first child on Dec. 20, 2017, have been making their long-distance relationship work ever since they got together. Thompson, an NBA player for the Cleveland Cavaliers, lives in Cleveland, Ohio, and Kardashian lives in Calabasas, California, and they've spent their relationship traveling back and forth. Now that the baby is coming so soon, they've reportedly set up camp together in order to prepare. Khloé Kardashian is giving birth in Cleveland, and she just traveled out there to basically start nesting before the due date.
While this could be taken as Kardashian and Thompson officially moving in together, it's not entirely clear whether or not Kardashian has moved to Cleveland permanently. According to People, Kardashian has settled into Thompson's house in Cleveland (she has spoken about the house in the past saying how much she loves it) and is now just waiting for the baby to arrive. "Khloé is in Cleveland and plans to stay there until the baby is born. She is too far along to fly back and forth," a source said. "She is doing great and seems very happy every day."
Kardashian posted this selfie on Instagram on Monday, March 19. Based on her Instagram story from the same day, this selfie was taken in Thompson's Cleveland home.
She also posted a Boomerang of the lake Thompson's house has a stellar view of to her Instagram story on March 19.
So Koko is definitely in Cleveland! The source told People that Kardashian intends on having her family fly out to Ohio when the baby arrives. "Her family is flying to Cleveland when it's baby time," they said. "Khloé especially wants Kris there for the birth." The source added that Kardashian is anxious about childbirth but is still ready to meet her daughter. "[Khloé] is a bit nervous about the birth, but mostly excited," they said. "She is taking it easy in Cleveland, getting everything ready and she can't wait to meet her baby girl." It looks like Kardashian is just focusing on relaxing and enjoying the last moments of her first pregnancy!
She posted this sweet photo of a stuffed animal elephant along with cookies shaped like elephants, strollers, bottles, and onesies to her Instagram story on March 19.
How cute are these little cookies!
If you're zooming in on those cookies to see if they reveal any hint of the baby's name, don't waste your time. I already looked, and there's no clue to be found. The cookies just say "Baby Thompson" and "Congrats Khloe," which is of course the sweetest, but come on! I want to hear a name!
Kardashian did give us one small clue about her daughter's name recently, and by "small clue," I mean she told us one name she definitely is not considering for her baby girl.
Throughout her pregnancy, Kardashian has been posting a bunch of photos of roses on her Instagram and it made fans think she's naming her daughter Rose.
Lots of fans had tweeted their theories about Khloé Kardashian's daughter's name, explaining why they think she'll be named Rose.
But as it turns out, Kardashian just loves the flower. She shot down the Rose theory in a March 16 tweet responding to a fan.
The fan had tweeted, "Apparently everything Khloé posts is about her baby and she's calling her Rose. Tabloids make up anything, just bloody wait until she tells us instead of guessing," adding, "Rose is cute tho." Kardashian responded to the second tweet, saying, "Rose is so cute but no that's not on my list." And there's that! We most likely won't learn the baby's name until after she's born, so hang in there, friends. The Kardashian/Jenner baby whirlwind will be over soon.