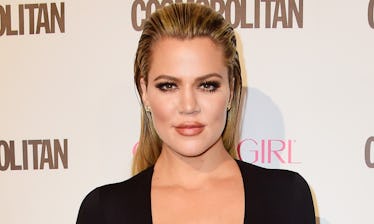 Khloé Kardashian Debunked A Fan Theory About Her Daughter's Name & I'm Bummed
Khloé Kardashian is reportedly going to give birth to her first daughter sometime in March. While they wait, fans of the reality star are dying to know what she and Tristan Thompson plan on naming their baby girl. One fan theory has become pretty popular on Twitter, and it has been making fans ask: Will Khloé Kardashian name her daughter Rose? People thought this might be a possibility based on all of the pictures of roses Kardashian posts on her Instagram (it's easily once a week at least, guys...), but Kardashian shot down the theory in a tweet on March 16, so consider this theory debunked.
Before Kardashian disproved this Rose theory, she had already told fans that she's thinking of giving the baby a name that starts with either a K or a T. She replied to one fan's question on March 4 in a tweet that said, "I think a T but a K is an option as well. That's as far as I know." Based on this, it really doesn't look like Rose was ever an option, but the theory behind the name was pretty solid. You see, Kardashian has been posting a bunch of photos of roses on her Instagram throughout her pregnancy. According to BuzzFeed, she has posted 13 rose photos to her account since July 2017. Coincidentally (or perhaps not), that's the same month Khloé learned she was pregnant.
This had fans convinced Kardashian was going to name the baby after the flower.
One fan account, in particular, has apparently had enough with the name theories and thinks we should all just wait until Kardashian reveals the name herself. Next time @ me!
Twitter user @KhloeKFanxo tweeted on March 16, "Apparently everything Khloé posts is about her baby and she's calling her Rose. Tabloids make up anything, just bloody wait until she tells us instead of guessing," adding in another tweet, "Rose is cute tho."
Kardashian herself responded to this tweet on March 16, officially shutting down the Rose train. She said, "Rose is so cute but no that's not on my list."
And that's that. To really drive the point home that she's not naming the baby Rose, we don't have to look any further than Khloé's tweets from literally the day before this one. On March 15, Kardashian tweeted "I think I'm going with a T" at a fan who was asking if she was going to give the baby a T name for Tristan Thompson or a K name for Kardashian.
So don't hold your breath, Rose fans!
When Kardashian learned she was having a baby girl, she actually had a hard time believing it.
They did the gender reveal on the season finale of Keeping Up With The Kardashians, and it turns out Kylie Jenner was actually the one to tell Kardashian the sex of her baby. In a clip from the episode, Kardashian has a shocked reaction to the news. She said, "You're lying! Shut up ... I don't feel like I'm having a girl. I don't feel like I'm having a girl at all. I'm like in a state of shock." She admitted in the episode that she was a little bummed about it, but only because she felt in her gut that she was having a boy. Kardashian was so convinced that she had apparently started picking out boy nurseries and everything. So, it definitely must've been jarring to be so sure of something, only to find out you were wrong. But she came around to the idea shortly after and said on her app,
I can't believe I'm having a girl! It was such a special moment and I'm so happy I got to share it with you guys. My team put together this fun fill-in-the-blank game for me about what I hope for my little one when she grows up.
She also tweeted about how excited she is that her daughter will have two best friends: Chicago West and Stormi Webster. Khloé tweeted on March 4 (the day of the KUWTK season finale), "I am now so excited my daughter will have forever best friends with Chicago and Stormi!! God is great!!! Thank you Lord for our princess."
We still don't know when Kardashian's exact due date is, but whenever the baby does arrive, we can know for sure that her name won't be Rose.