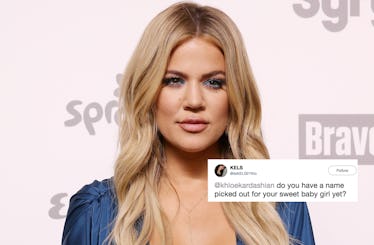 Khloé Kardashian Gave The Biggest Clue About Her Daughter's Name & I'm Screaming
Khloé Kardashian revealed on the season finale of Keeping Up With The Kardashians that she and Tristan Thompson are having a baby girl! They revealed the sex of the baby on the show (which also marked Kylie Jenner's return to the show), and it was adorable. So now that we know the sex of the baby, fans on Twitter are wondering: Do Khloé and Tristan have a name picked out? Not just yet, but this clue about Khloé Kardashian's daughter's name is definitely helping to narrow the possibilities down.
Kardashian was live-tweeting during the Keeping Up With The Kardashians season finale on March 4, and part of her live-tweets included answering fans' questions about her baby. One fan asked, "Do you have a name picked out for your sweet baby girl yet?" Kardashian quoted the tweet and said, "NO!!! It's so hard!!! Lol I knew the name if I was having a boy. So now I really have to figure this out." Another fan asked, "Are you going to follow tradition and name your baby something beginning with a 'k'?" Kardashian responded, "I think a T but a K is an option as well. That's as far as I know." If the name she gives her daughter does start with a K, she'll be the first of her siblings to continue the name tradition Kris Jenner and Robert Kardashian started.
Fans are now tweeting their own K and T name ideas at Kardashian, and some of the names are actually pretty cute.
Kardashian is reportedly due sometime this month, so the Kardashian/Jenner baby whirlwind is coming to an end very soon. Once Baby Kardashian/Thompson is born, she'll have two best friends in cousins Chicago and Stormi who are just a few months older than her.
There was one part of the episode where Kim and Kanye's surrogate, whose name we learned is Lorena, is seen speaking with Khloé Kardashian and Kylie Jenner, and it was so adorable to see the three of them together knowing that those babies are going to grow up so close.
Kardashian opened up about her hopes for her daughter on her app after the sex was revealed.
She said,
I can't believe I'm having a girl! It was such a special moment and I'm so happy I got to share it with you guys. My team put together this fun fill-in-the-blank game for me about what I hope for my little one when she grows up.
Some of those fill-in-the-blank questions and answers included, "I think it would be cool for our baby to: speak many languages," "Tristan really wants our baby to be: forever healthy!," "The sister that will end up babysitting the most is: Kourt or Kim. They already have so many kids. What's one more? LOL!," and "If my baby could excel at just one thing, I hope it would be: self-love." She also said during the makeshift Q&A that she won't let her daughter watch Keeping Up With The Kardashians until she's 13 years old, and she'll let her daughter go on her first date when she's 15. She said, "My chid will be 15 (I'm not sure what TT will say) years old when they're allowed to go on their first date."
Kylie Jenner was actually the one to reveal the sex of the baby to Khloé Kardashian. They did it over the phone and then Khloé planned a reveal for Tristan afterward. Kardashian was actually bummed when she learned she was having a girl and thought Jenner was lying to her at first. "You're having a girl!" Jenner said to Kardashian over the phone, who was sitting with Kim Kardashian at the time. "You're lying! Shut up ... I don't feel like I'm having a girl." She scowled a bit, saying, "I don't feel like I'm having a girl at all. I'm like in a state of shock." She said later in the episode that she just needed time to adjust to the fact that her gut feeling about the sex was wrong. She had apparently already been looking into "boy nurseries," so finding out she was having a girl came as a shock.
But Thompson's reaction to the baby news was so adorable. He walked into a room filled with pink balloons and reacted saying, "Oh my God! Ohhhhh! My vision was right. I knew it!" The whole thing was so sweet. Even though Kardashian wasn't that excited about the sex at first, she definitely is now. She said in a tweet on March 4, "I am now so excited my daughter will have forever best friends with Chicago and Stormi!! God is great!!! Thank you Lord for our princess."
Now, if Khloé and Tristan are really considering K names, I'd like to officially throw my name into the ring and say that Kelli is a great name to give a daughter. Let me know your thoughts, Khlo!!