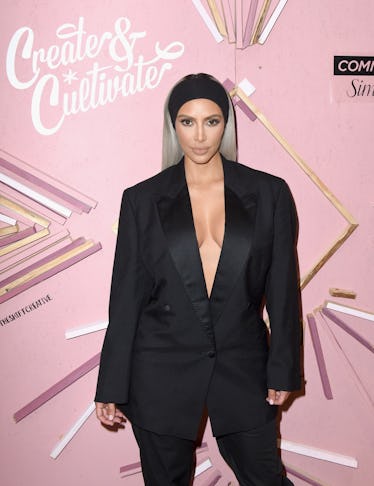 Kim Kardashian Introduced Her Surrogate To Her Fam On 'KUWTK' & The Clip Is So Sweet
Vivien Killilea/Getty Images Entertainment/Getty Images
There's been a great clip making the rounds of Kylie Jenner's long-awaited return to Keeping Up With The Kardashians. It's of Khloé and a still-preggers KyKy showing off their matching baby bumps to a third pregnant woman. Khloé tells her that the sisters are only three months apart in their pregnancies, and while that's super cute and all, the bigger news concerns the third person they are talking to. Kim Kardashian's surrogate was on KUWTK, and SHE is the other woman in the shot, you guys! Her name is Lorena, and I am so excited to finally get to see the woman who carried baby Chi!
"My surrogate in in town for a doctor's appointment so I thought it would be an amazing time for her to meet my family but still not expose who she is to the world," Kim explained in the March 4 season finale. "This has been such a long journey for us and something that I've wanted to for so long. And I share everything with my family."
Aw, Keeks! That's actually so, so sweet! Then she brings Lorena inside to meet her family. This is the clip of her talking to Kylie and Khloé below.
Are you loving this adorable moment as much as I am? How excited are Khloé and Kylie to be pregnant together?
Anyway, the whole Kardashian-Jenner crew welcomed Lorena with a round of hugs, then bombarded her with a whole bunch of questions. Here's what we learned: She has two other kids — both boys, ages 3 and 5, she has always had easy pregnancies, and she likes being pregnant and says it feels "natural, like I'm supposed to do it."
Aww! What a total sweetheart! I can totally see why Kim picked her! Fans on Twitter were also happy to see how awesome Lorena is.
My favorite part of the episode was definitely seeing the cute bonding sesh between Kylie, Khloé, and Lorena, when the three of them realized how close in age the babies they are carrying will all be.
"How are you feeling?" Lorena asked Kylie.
"I'm good," Kylie responded with a smile.
"You two are a month apart," Khloé told Kylie and Lorena. She then pointed to Kylie and said, "We're like three months apart, me and her."
"Are you guys excited?" Lorena asked.
"Yeah," Khloé told her. "We both have never been through this before!"
This is actually the most amazing convo and I totally want to be pregnant with these guys now! Khloe even asked Lorena some tough questions about giving birth as a surrogate, which she handled both gracefully and like a pro.
"Emotionally for you, is it like super depressing or something after the fact?" Khloé asked.
"No," Lorena responded. "Because I know from the very beginning this is not my baby. At the end, my joy and my satisfaction is whoever I'm having the baby for. So when the baby comes out they're like, 'OK, well do you want skin on skin?' I'm like, 'No, let her go to her mom.' I know what my job is in all of it, you know what I'm saying? It makes me feel important because I'm like, 'Wow, I did something so good. This is beautiful. Like I would do this again a thousand more times.'"
What an incredible woman! Kim then admitted that she didn't know what to expect when she went into the whole surrogate experience, and while it definitely hasn't been as easy as she thought it would be emotionally, it was so worth it.
"Our surrogate is such a nice person," she explained. "My family absolutely loves her and I'm just so grateful. Surrogacy is such a beautiful thing and we're just so excited to welcome our baby girl."
What a blessing!