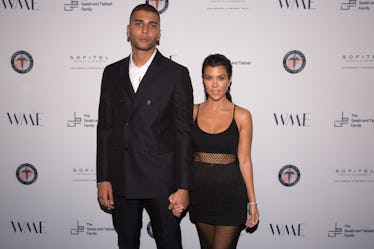 This Update On Kourt K & Younes Bendjima's Relationship Will Make You Swoon
Gabriel Olsen/Getty Images Entertainment/Getty Images
Is anyone as obsessed with Kourt Kardashian and Younes Bendjima's relationship as I am? NVM answering that — of course you are. I mean, I never wanna see these two split up from each other, which is why I'm loving the latest update about their relationship. According to People, Kourtney Kardashian and Younes Bendjima are "getting serious," and I just wanna know: should I start saving up for my bridesmaid's dress or what? (No, but for real, though.)
On July 3, a source told the publication that their romance isn't just a seasonal thing — it's reportedly the real deal.
"She is incredibly happy with Younes," the source explained. "They are getting serious. Younes is very close to her kids and loves spending time with them. The kids really like him."
The two have seemingly been living their best lives with each other since they started hanging out back in 2016, so I'm not even gonna front like I'm surprised. Lately, they've been away on a whimsical Italian getaway, where they've been spotted packing on the PDA, relaxing on yachts, and spending time with Kardashian's adorable kids: Mason, Penelope, and Reign Disick.
It can be difficult for kids to warm up to a parent's new boyfriend or girlfriend, so seeing them already be so acquainted is cute AF!
But TBH, I had already had the feels that they were in it for the long haul after seeing how much they went out for each other on their birthdays. Back in May, the mom-of-three brought Bendjima on a private jet to celebrate his 25th birthday. I repeat: a friggin' private jet! The destination of their getaway was unclear, but judging from the pics Kardashian shared on social media, she had all the romantic vibes going. In one shot, Bendjima was shown sitting in the jet with two over-sized helium balloons in the background that said "25" in honor of his birthday. And in other post, Kardashian shared a video of a birthday cake that featured an adorable throwback photo of Younes, and read: "Joyeux Anniversaire Mon Bébé!" (I had to Google Translate it, but that apparently means "Happy Birthday My Baby" in French. What a sweetheart.)
Their romance gets much cuter than that, though. The model also went all out for for Kardashian's own birthday on April 18. In a series of Snapchat videos shared on the reality star's page, Bendjima was shown cooking a romantic dinner for his beau, and the two later topped off her birthday celebrations with a trip to Disneyland.
BRB, swiping matches on Twitter so I can potentially have a shot at this kind of love one day.
In all seriousness, though, the pair has certainly come a long way in the short time they've been dating. Back in December, a source shared some details about Kardashian and Bendjima's relationship, and — although the source said things were heating up between the two — the insider admitted that no one had really thought their fling would last as long as it has.
The insider explained:
No one thought their relationship would last this long, but Kourtney is very happy. Younes has met her kids. Kourtney's family really likes him. He's the opposite of Scott. He doesn't party, isn't flashy and really treats Kourtney with a lot of respect. It's obvious that he really cares about her.
Hopefully our love for this couple is just as obvious. I can't help but wonder where their romance takes them next, but with any luck, it'll be down the aisle. (If so, I really wasn't kidding about being a bridesmaid. HMU guys.)