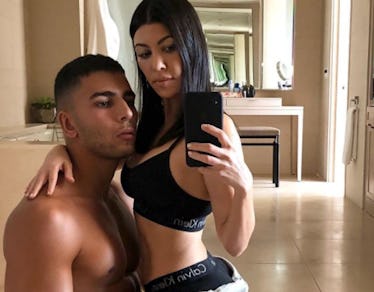 Younes Bendjima Posted So Many Cute Photos Of Kourtney Kardashian For Her Birthday
Instagram / Kourtney Kardashian
Happy birthday to Kourtney Kardashian and no one else with a birthday this year. The eldest Kardashian and mom of three celebrated turning 39 on April 18, 2018, and she is doing it in total style. Kardashian has been jet-setting with her sister Kim K, raging at Coachella with Kylie Jenner, and apparently, spending some precious time with her serious boyfriend, Younes. The smoke-show duo has only recently made their relationship Instagram official, but he just took it to a whole new level. Younes Bendjima's photos of Kourtney Kardashian on her birthday are so cute, if not totally excessive.
Whatever. I'm here for it.
You guys might remember from the latest season of Keeping Up With The Kardashians how totally weird Kardashian was in the beginning of her relationship with Younes. She took great care to keep his name off camera and had to tip-toe around her children's father and ex-boyfriend, Scott Disick. Now, she and Bendjima are loud and proud about their relationship, so much so, Kardashian is happy to share photos of their life together, and obviously, so is he.
On Kardashian's birthday, Bendjima went wild sharing intimate photos of Kourtney and himself on his Instagram story. They ranged from old pictures from their trip to Egypt, to BTS videos of Kardashian goofing off, to photos fans have never seen or heard about. I didn't count how many pictures he shared in total, but it was well into the double digits.
He posted a lot of pics from their travels.
Some pictures took a sexy turn.
He even shared quite a bunch of goofy videos, too.
I think I speak on behalf of everyone when I say it's so much fun to see this side of Kardashian.
Fan's have watched for years as she and Disick tried to work through their tumultuous relationship, and it's clear even from this side of the television, Kardashian has new life breathed into her since calling things off officially with her babies' daddy.
Despite the big age difference between Kardashian and Bendjima (he is 15 years her junior), the couple is going strong and seems happier than ever.
While the relationship weirdly still feels new, it's actually been two years since Kardashian and Bendjima met. Kardashian filled her sister Khloé (and the world) in on how she and Bendjima actually came across each other during the weekend of Kim K's Paris robbery. During an episode of Keeping Up With The Kardashians, Kardashian revealed she saw Bendjima at a nightclub with her friends. She explained,
He was friends with our friends. He would walk in, say hi, shake hands with like our security or whatever, but, like, not say hi to us. And then I was like, 'Why do you hate us?' I was just drunk. Once I said that he literally like grabbed my hand and was like, 'It's five in the morning. We're leaving.' And then next night Younes was like, 'Bring your ass here.'
Excuse me, can we pause please while I take a cold shower?
The gist is, Bendjima clearly loves Kardashian and I love him for it. She's clearly feeling secure and comfortable enough in this relationship to let him post so many intimate photos, which means the bickering with Disick must be done for real-for real.
Wherever you are Kourt, I hope Younes is also there — shirtless. Happy birthday, mama! Here's to many, many more.
Check out the entire Gen Why series and other videos on Facebook and the Bustle app across Apple TV, Roku, and Amazon Fire TV.