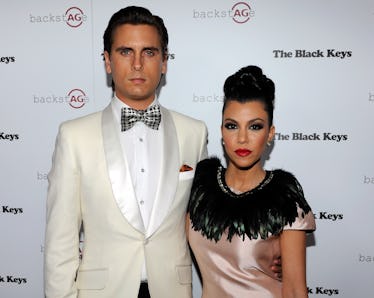 Scott Disick Is Reportedly "Insanely Jealous" Of Kourtney K's BF & The Reason Is So Sad
Ethan Miller/Getty Images Entertainment/Getty Images
Can someone start playing the violin, please? It will set the mood for this sad, sad, post. Since Kourtney Kardashian and Scott Disick have broken up, each have gone their separate ways and began dating other people, which is totally normal. But what's heartbreaking is Scott Disick's feelings about Kourtney Kardashian and Younes Bendjima, aka the young, muscled model that Kourt's been shacking up with.
According to E! News, an insider dished on how Scott's "insanely jealous" of Kourtney's new man:
Scott is still insanely jealous of Younes ... He just can't come to terms with the fact that Kourtney has found true happiness with someone else.
The insider also added that, despite the fact that he's been dating Sofia Richie for a few months, he still "can't deal with someone else having Kourtney."
Eesh.
If that's not bad enough, the source said that because of his jealousy, Kourtney never knows which side of Scott she's going to get:
It makes things between them tense and unpredictable ... Kourtney never knows when he is going to fly off the handle or go nuts about something. Scott just never thought it would last this long with Younes or become so serious. Nobody really did.
Ugh, can we talk about how upsetting that sounds?
Honestly though, I hate to break it to y'all, but I think Kourtney and Younes are actually really good together.
First of all, they CRUSH the Halloween game:
Quite possibly the best rendition of Bonnie and Clyde that I've ever seen.
And they remain so low-key about their relationship that even Kourtney's sisters tried to trick her into confirming whether she was or wasn't seeing Younes, which I love.
BUT! With all of that said, Scott is still the father of Kourtney's children, and it was a little sad when he didn't even know that Kim was having a third baby through surrogacy. Actually, he didn't know she was having a baby at all, and fans cringed pretty hard when we watched it play out on Keeping Up With The Kardashians:
In the video, Kim is surprised that Scott had literally no clue, and explains to him,
Scott, we're having a baby in, like, a couple of months. I'm dead serious. No, I swear … we went the surrogacy route. I never had this conversation with you? I swear I'm not joking with you.
Scott responded by shaking his head and leaving the room, saying, "I don't know what's going on anymore."
Is it funny? Sort of. Is it sad? Also, sort of.
But as fans have said before, Scott has someone else in his love life: Sofia Richie. And it *seemed* that the two were doing juuust fine. When asked what made her relationship with Scott so special at the launch of Issey Miyake fragrances L'Eau d'Issey Nectar and L'Eau Majeure d'Issey, Richie replied by saying:
I just think he's the male version of me. Our humor. We have very similar humor.
Gotta make each other laugh, people.
Plus, we saw that Scott sent Sophia a bouquet of red roses on Valentine's Day when she posted a photo of her with the flowers on her Instagram story and tagged Scott:
But I guess we never really know what goes on in someone else's relationship, so who are we to assume we know anything?
Still, it's depressing as hell to think that Scott truly isn't OK with Kourtney's relationship with Younes. And if that's the case, hopefully the two can talk it out themselves, especially because they co-parent Mason, Reign, and Penelope (which personally, I feel they've done a pretty solid job of doing so far).
In 2016, Kourtney opened up about co-parenting with Scott and told YOU magazine that she finds it "really easy":
Scott and I communicate all the time. You have to keep discussing what's going on because as the children grow older, the rules need to be renegotiated.
I hope that it's still the case for both Kourtney and Scott. After all, fans just want them to be happy.
So cheer up, Scott, and try to appreciate all the good things you've got going on in your life. You're a pretty important guy.
That's the spirit.