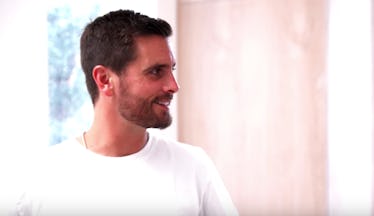 Nobody Told Scott Disick That Kim K Was Having Another Baby & His Reaction Is Hilarious
E! Entertainment
I'm going to be honest with you guys: Sometimes I think Scott Disick is the voice of our generation. I know it's controversial, but I really feel like there are moments on Keeping Up With The Kardashians when he's the only person who really knows what's going on. This, however, is not one of those moments. Scott Disick's reaction to Kim Kardashian having another baby is hilarious and also, ya know, a teensy bit sad. That's because he seems to be the only person on the whole planet who didn't know about it already.
As you and the whole world know, Kim Kardashian and Kanye West decided to have their third baby via surrogate. Kardashian announced the good news via a KUWTK promo where we saw her share the deets with her sister Khloé. Due to previous pregnancy difficulties, fans watched as the reality TV star and her musician husband made the difficult choice to go with a gestational carrier rather than have Kardashian carry the baby herself. There have been millions of articles written about it, endless conversations on Twitter, and Kardashian's participated in multiple interviews on the subject.
In short, it hasn't exactly been a secret.
According to this KUWTK clip, Disick somehow missed it.
In the footage, Kardashian and Disick are walking around an empty room in her new home. She's briefly explaining where items will go when Disick admits he doesn't "even know what this room is." Kardashian looks at him really calmly and states, "Nursery."
This is when things get awkward. Disick, obviously not knowing the details, asks the question, "Do you really think you need to worry about redoing these cabinets if this is gonna be a nursery for a kid that you don't even have?"
After Kardashian says yes, we finally see the light bulb go off. Disick asks, "Are you pregnant?"
Facepalm.
My favorite part is watching the confusion wash over Kardashian's face as she starts to put two and two together. The other hilarious part is Disick's response when she asks him if he really doesn't know she's having a baby. Instead of "No" or "I didn't know that," Disick says,"Not really."
What does he mean "not really"?
It's so funny, so awkward, and also, I don't know how to feel.
Very plainly, Kim explains,
Scott, we're having a baby in, like, a couple of months. I'm dead serious. No, I swear … we went the surrogacy route. I never had this conversation with you? I swear I'm not joking with you.
Poor Scott. He just shakes his head and walks out of the room saying, "I don't know what's going on anymore."
Dude, me neither.
In case you've been living under a rock, Scott, here are some other things going on: Khloé is pregnant and expecting her first baby with Tristan Thompson sometime this spring. Kylie just had her first baby with Travis Scott and named her Stormi. (It's been a whole thing.) As far as we know, your ex Kourtney isn't pregnant, but she is seriously in love with her current boyfriend, Younes Bendjima. (But, I know you know that one already.) Also, your girlfriend, Sofia Richie, is 19-years-old. If you didn't know, now you know.
Don't feel bad. From where I'm sitting, it looks like there is a lot going on in Calabasas, California. I'm sure it was a simple miscommunication which made you miss the news about only one of the most famous babies in the whole world.
Hang in there, bud. Love you. Sometimes.
Check out the entire Gen Why series and other videos on Facebook and the Bustle app across Apple TV, Roku, and Amazon Fire TV.