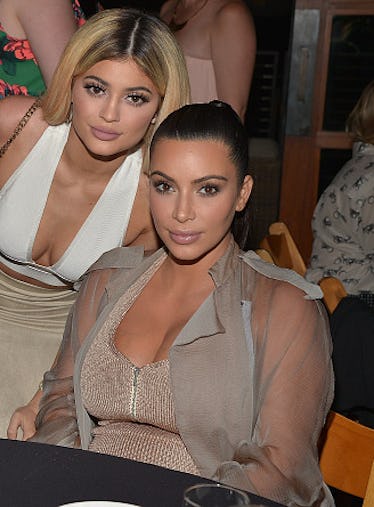 Fans Are Convinced Kylie Jenner Is Kim K's Surrogate Because Of This Huge Clue
The Twittersphere is currently buzzing with rumors that Kylie Jenner is in labor. While it hasn't been confirmed, reports are all over the internet. And coincidentally — or maybe not — Kim Kardashian and Kanye West are also expecting their third child to arrive via surrogate in the very near future. Some fans are convinced that this means Kylie is actually Kim K's surrogate. Elite Daily has reached out to both Kylie and Kim's representatives about the rumor and will update this post if they respond.
Update: TMZ has reported that Kylie Jenner did not go into labor on Friday, according to unnamed sources close to Jenner and Travis Scott.
Earlier: Kylie has been MIA from Keeping Up With The Kardashians and absent from social media for months, causing people to believe that she is pregnant with boyfriend Travis Scott's baby. Sources claim that she wants to keep her pregnancy private. Neither Kylie nor anyone in her family has publicly confirmed the pregnancy.
Meanwhile, Kim K and Kanye have confirmed that they hired a surrogate to carry their third child. The couple have yet to confirm the sex of the child, but reports claim they are also expecting a baby girl. Interesting. Sources are also claiming that the new baby West could come "any day now." The family is reportedly "fully prepared and can't wait to bring their baby home," according to Entertainment Tonight.
Kim is likely using a surrogate because of a history with health complications during her pregnancies with North and Saint. Kim told E! News that she decided to use a surrogate after experiencing "bad deliveries" and "having a few surgeries on her uterus," including one that attempted to make it safe for her to carry another child on her own.
"I want my kids to have siblings, but the doctors don't feel like it's safe for me," she told her sisters Kourtney and Khloé during an episode of Keeping Up With The Kardashians in April, explaining that she's "going to try to have one more baby."
In that same conversation, she revealed that her traumatic ordeal in Paris only increased her desire to grow her family sooner rather than later. "Kanye and I have always talked about having more kids," she said. "But after what I went through in Paris, the urgency is even greater."
She has kept the identity of her surrogate a secret thus far, but has talked about how strong their relationship is. "I love her," Kim said on The Real. "I have the best relationship with my surrogate. She's so nice. She is the perfect person to do this for my family. She's great. She's been amazing." Kim hasn't fully explained the situation to her two kids, North, 4, and Saint, 2. North is reportedly excited for the new baby, while Saint is still too young to understand.
As far as the timeline goes, Kylie is rumored to be due in February, and Kim is expected to give birth in the next few days or weeks — in January or early February. The dates match up pretty well, so it makes sense that fans think Kylie could potentially be carrying Kim's child. People think that this plan to keep the baby in the family could be why they have all been so quiet about the rumors surrounding Kylie.
Here's what Twitter has to say:
While the timelines are close, it's important to keep in mind that the dates don't line up exactly, as far as the public knows. And according to the Daily Mail, the surrogate is a married woman in her 20s who already has two children — in other words, not Kylie at all.
Whatever happens, we can't wait until Kim and Kanye welcome their third baby and Kylie confirms her rumored pregnancy.