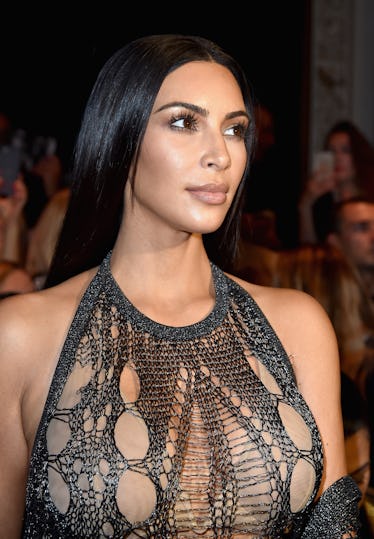 Kim Kardashian Revealed More Adorable Details About Chicago West & We're So Excited
Pascal Le Segretain/Getty Images Entertainment/Getty Images
What's a girl gotta do to be adopted by Kim Kardashian? Keeks, hook me up! I'm a great roommate, respectful house guest, and I will TOTALLY live in a hand-me-down crib or whatever you have left over from your three gorgeous babies. Kim Kardashian just revealed some details about Chicago West's nursery, and it has me checking my credit score in hopes I can put a down payment once the latest addition to the Kardashian-West family is done with it.
Despite Kardashian revealing she's re-using a lot of baby furniture and stuff she already has, we can tell the new nursery is seriously beautiful. It's set up somewhere in the new mansion Kardashian shares with her husband, Kanye West, and we imagine it has beautiful views, high ceilings, and custom aromatherapy. Those are just some guesses, but here are a few real details straight from Kardashian's mouth.
She told Architectural Digest,
I'm pretty much using the same crib and everything that I had for our other kids. We have a Vetro Lucite crib and we have a Royère bed in there and a really fluffy cream rug.
I'm not an interior design expert, but I do see a direct correlation between how expensive something is and how difficult the designer's name is to pronounce or spell. Based on what Kardashian just said, we can assume the crib and bed are worth a pretty penny. She continued,
We had a changing table made. I have a glider with an ottoman for feeding. With the first baby, I had a rocking chair, and I just love a glider so much more — you can move easier. Everything in the house is light colors and woods and soft and natural colors.
According to the reality TV star, the light colors can be a bit tricky to keep tidy when she has three really young kids running around. She said,
Oh, my God. I run around the house with towels. You do have to just take a deep breath and say, 'OK, it's going to happen.' We decided to have lighter colors. Our last house that we just moved out of was all grays, which was a good test, because we knew we were going to move into a lighter house. We have a great playroom, and that's where all the markers and the paints and the colors are, and I really overdo it in the playroom so that by the time they're done there, they have no desire to take a pen on a nice piece of furniture.
That's not to say sh*t's never hit the fan (or furniture). One time, Kardashian discovered her oldest daughter, North, getting a little liberal with some nail polish.
She told the magazine,
One time I walked in and my daughter had purple nail polish all over her little kid's vanity, all over her toys, and all over the walls, and I had just left the room for not even five minutes. It was at our last house, so I might flip out now because Axel [Axel Vervoordt furniture] made our walls with this material that's like, not a Venetian plaster but some kind of plaster from Belgium. At the end of the day, you just have to take a deep breath and figure it out.
Right, right, right. Belgium plaster. #Same.
With all of the efforts going into keeping her house clean and the kids comfortable, it sounds like Kardashian and her family are doing amazing. A source told US Weekly, "Baby is settling in beautifully. Chi is sleeping a ton for now."
Chi, let me know if you need someone to help split the rent. I'm good for it.
Check out the entire Gen Why series and other videos on Facebook and the Bustle app across Apple TV, Roku, and Amazon Fire TV.