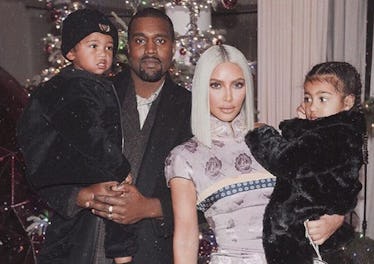 We Finally Have New Details About Baby Chicago West & It's So Sweet
Kim Kardashian, Kanye West and their kiddos North and Saint are adjusting to their new life with baby Chicago West. The new family of five has reportedly been spending a lot of time at home bonding with the baby, and sources close to the family have revealed Kim Kardashian's bond with Chicago West is already really strong. "Kim's a very hands-on mom," a source told Us Weekly. "Kim gets up for everything, in the middle of the night, especially in the first week. It's really important they bond with the baby." The baby was born via surrogate on Monday, Jan. 15, around 1 a.m., according to the birth announcement Kardashian released on her app. As for how Chi (pronounced "shy") is doing, the source says, "Baby is settling in beautifully. Chi is sleeping a ton for now." Kardashian announced the birth of her and West's third child on Tuesday, Jan. 16, in a statement on her app. The announcement read,
January 15, 2018, 12:47 a.m. 7 lbs 6 oz. Kanye and I are happy to announce the arrival of our healthy, beautiful baby girl. We are incredibly grateful to our surrogate who made our dreams come true with the greatest gift one could give and to our wonderful doctors and nurses for their special care. North and Saint are especially thrilled to welcome their baby sister. Love, Kim Kardashian West.
Kardashian used her app again to announce the name of the baby on Jan. 19.
Kardashian had told Ellen DeGeneres in an interview during her surrogate's pregnancy that she liked single-syllable names that are easy to spell, which explains the nickname "Chi." She told DeGeneres, "I do like different name[s] — but short, easy to spell, one syllable... That's kind of my vibe."
There was a fan theory that claimed the baby was going to be named Eve, and it was actually pretty solid.
It fit the bill of being easy to spell and having only one syllable, but fans were convinced she was going to be named Eve because it would've completed an acronym comprised of her older siblings' names: NSEW. The "N" is for North, the "S" is for Saint, the "E" could've been for Eve, and the "W" is obviously for West. It was a solid theory, but ultimately a debunked one.
The meaning behind the name Chicago is pretty clear. Kanye West is from Chicago and frequently talks about how proud he is of his hometown in his music. The city means a lot to him, so naming his daughter after it is a touching homage. Some people were confused about the nickname "Chi" at first, though, thinking it was pronounced like "chai" rather than "shy." That made fans think the name was awkwardly similar to Blac Chyna's name. But no, Kim Kardashian and Kanye West did not name their baby after Blac Chyna.
Khloé Kardashian cleared up the confusion real quick by tweeting the correct pronunciation of the name.
She quoted Kardashian's tweet revealing the name and said, "I LOOOOOOOOOOVE her name. hey Chi (shy)." Baby Chi is reportedly doing well and sleeping a lot (as newborns do). A source told People soon after Chicago was born that Kardashian was "soaking it all in" because she had always dreamed of having three kids. "Kim is just so thrilled that her dream of having three kids finally came true," they said. "She's really enjoying these few days just being with the baby and her family and soaking it all in."
Kim and Kanye did make sure to have some alone time after the baby was born, though (super important for new parents to take a break amid the whirlwind that is bringing a baby home). They reportedly went on their first date since the baby was born on Jan. 20. According to E! News, the parents of three went to West's office to watch a screening of Damon Dash's upcoming film, Honor Up, which West was an executive producer on. It seems like things in the West house are going great!