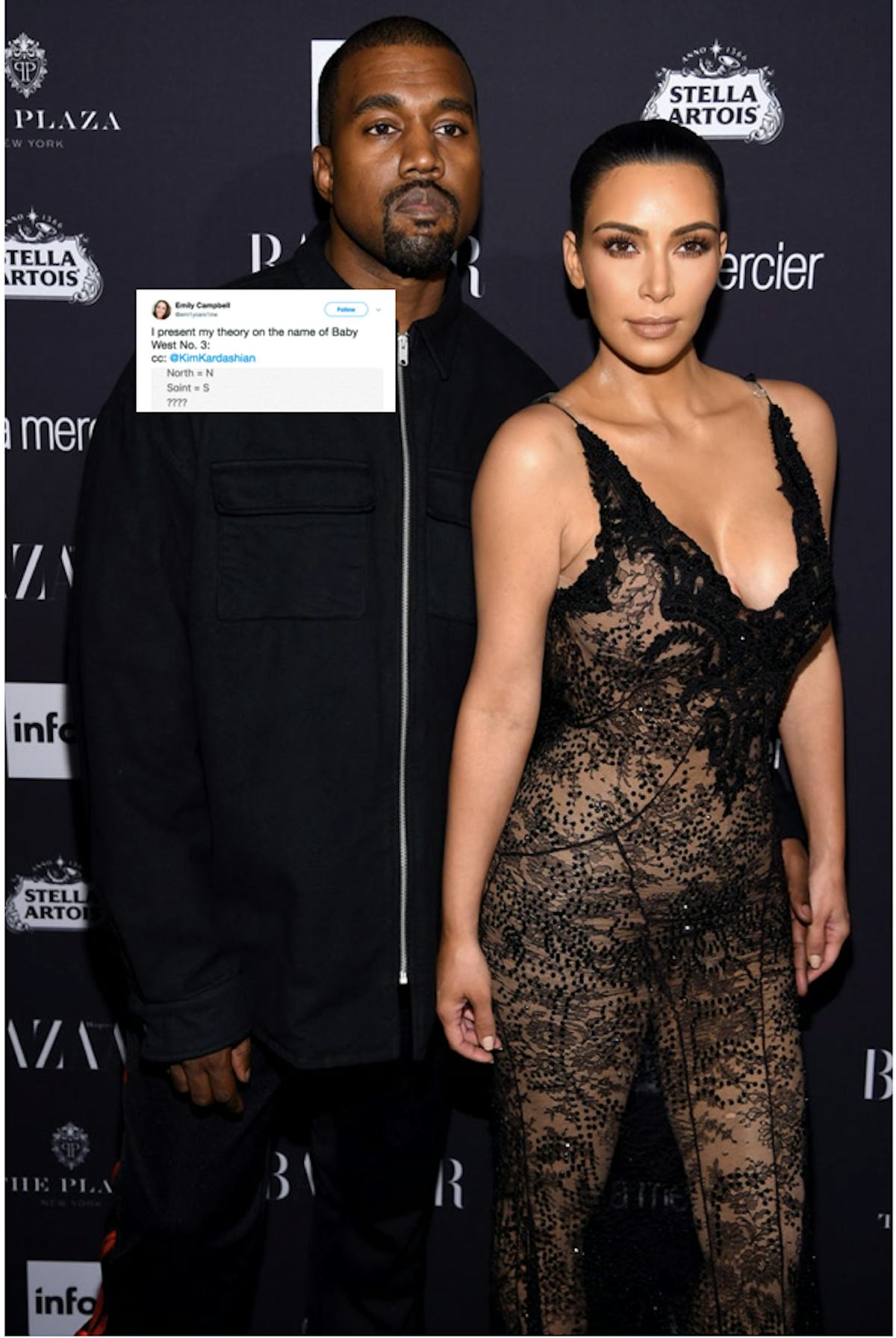 There's A New Theory About What Kim K Named Her Baby & It Makes So Much Sense
While scrolling through Twitter, I came across a surprising question: Did Kim Kardashian name her baby Eve? It's actually just a fan theory, but a very solid one. If there is one thing fans have proven since the arrival of baby Kardashian-West, it's that they are loyal to the core and should all be private investigators. People went deep trying to crack the code of Kim and Kanye's possible baby name choices. Obviously, we won't know for sure until Kim spills the goods. Until then, I actually think this particular fan theory about the name Eve is great thinking. It is so good, I'll be low-key disappointed if it's not the new baby's name.
The logic behind the name "Eve" has to do with completing the acronym that all the Kardashian-West children's first initials make. Basically, to have the three initials create all the directions on a compass (NSEW), Kardashian would have to name her new daughter a name that begins with an "E" — which really limits options.
There's North and Saint (South); all that's missing is the "E" to create North, South, Eve West (NSEW). DO YOU SEE THE BRILLIANCE? Kim has also spoken about liking simple, easy to spell, one-syllable names. Once again, Eve totally fits. Fans are pretty proud of themselves for cracking the potential code.
Eve isn't too bad of a guess, considering the clues we've received from Kardashian. She appeared on The Ellen DeGeneres Show in November, and admitted that she and Kanye still had not chosen a name. Some of the criteria for a name included being easy to spell and short. The reality star said,
I do like different name[s] — but short, easy to spell, one syllable... That's kind of my vibe.
Of course, DeGeneres offered her help with a special name generator. Some great options like "Lip-Kit West" and "West West" popped up. The talk show host also mentioned the name "Star West," but it turns out North had called dibs on that name earlier. Kim said,
I'm not going to name her Star, but my daughter picks that name all the time. ... She got a toy and it's a llama — "Baby Sister's" toy that she took — and I said, 'Well, OK, what do you want to name the llama?' She said, 'Star— Star West!' So, she names everything Star West.' I'm not vibing on it.
It doesn't matter how cute North is — if Kim isn't vibing on it, it's not going to happen. The announcement of a name should be coming any day now from the Kardashian-West family.
Kardashian made the birth announcement on Jan. 16 and was sure to express gratitude to the surrogate who made their "dreams come true." The full statement said,
January 15, 2018, 12:47 a.m., 7 lbs 6 oz. Kanye and I are happy to announce the arrival of our healthy, beautiful baby girl. We are incredibly grateful to our surrogate who made our dreams come true with the greatest gift one could give and to our wonderful doctors and nurses for their special care. North and Saint are especially thrilled to welcome their baby sister. Love, Kim Kardashian West.
As far as the surrogacy experience, Kim admitted that it was harder than she anticipated because of the lack of control. She told Entertainment Tonight in November,
Obviously you pick someone that you completely trust and that you have a good bond and relationship with, but it is still … knowing that I was able to carry my first two babies and not my baby now, it's hard for me. It's definitely a harder experience than I anticipated just in the control area.
Now that their new bundle of joy has arrived, I'm sure a wave of relief has washed over Kim and Kanye. I'm so happy for the Kardashian-Jenners and the new chapter they're embarking on. I can't wait to see what's next for the family. But first, we need a name.
Check out the entire Gen Why series and other videos on Facebook and the Bustle app across Apple TV, Roku, and Amazon Fire TV.