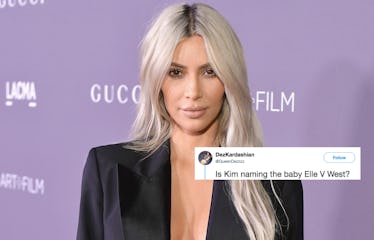 Kim K's Cryptic Instagram Has Fans Convinced It's A Clue About Her New Baby's Name – UPDATE
Kim and Kanye are parents of three now, but they haven't given us any hints as to what the name of their daughter could be... until now (possibly). Fans think a clue about Kim Kardashian's third baby's name could be found in her latest Instagram post and the conspiracy theories are already picking up speed. Kardashian posted a photo of what looks like the surface of a Louis Vuitton purse on her Instagram on Jan. 17, and now fans are convinced the baby's name is going to be some kind of spin on Louis Vuitton.
UPDATE: Kim Kardashian West herself has denied rumors that she's named her third child after the Louis Vuitton brand. Kardashian West tweeted in response to the story on Jan. 18, saying, "NOPE! It was Kim Jones last show and wanted to snap a LV pic How amazing did Naomi & Kate look?!"
EARLIER: Lots of fans are predicting the name will be Louis West. Some think it will be Louis Vuitton West, and others are just quoting that line in "Gold Digger" where Kanye West raps "with a baby Louis Vuitton under her underarm." Considering one of West's nicknames is "Louis Vuitton Don" and the fact that he mentions the brand in a lot of his songs, it's not that bad of a theory. But Kardashian has said in interviews that she likes single-syllable names that are easy to spell. This has some fans theorizing that the name could be something like Elle V. West, Elle West, Love West, or (this one's my guess) Liv West.
Kardashian's Louis Vuitton Instagram has fans developing baby name conspiracy theories. And she posted it without a caption, making it all the more cryptic.
Fans are convinced this is a hint at what the baby's name is. Some love the idea of Louis Vuitton West, some don't, and some are just trying their best with their guesses.
There's one (pretty solid) theory saying the name will start with an E because then they'll have all four directions on the compass covered: North (N), Saint (S), and West (W) are just missing that E.
That means Elle could still be in the running, but the above tweet makes a pretty good argument for the name Eve. It's packed with meaning, just like the names North and Saint, it only has one syllable, and it's super easy to spell. Kim and Kanye liked the name North because it represented their highest point in life: having a baby together. The significance of the name Saint is self-explanatory. And the name Eve represents the very first woman, in a religious sense, so that name could definitely be a contender even though it doesn't have much to do with Kardashian's Louis Vuitton Instagram.
But that's OK, seeing as the Instagram might not even be about baby names at all. It was announced this week that the artistic director of menswear at Louis Vuitton, Kim Jones, was stepping down from her position after almost 10 years. Kardashian and West have good relationships with lots of designers and higher-ups in the fashion industry, and Louis Vuitton is one of their favorite brands (if you need proof of that, just look at Kim Kardashian's Louis Vuitton trash cans). So the Instagram might just be an homage to Jones and have nothing to do with the baby.
Some are theorizing that West could be stepping into the role of artistic director of menswear following Jones' exit, but I doubt that's going to happen.
Some fans want Kimye to name the baby Donda West, in honor of West's late mother who had the same name.
Naming the baby Donda would be a touching tribute to West's mother, who died 10 years ago. It would also fit into the Louis Vuitton theory, thanks to Kanye's "Louis Vuitton Don" nickname.
Outside of this cryptic Instagram post, Kardashian has been posting a lot of photos and videos on her Instagram story that show what she's been up to since the baby arrived. On Jan. 17, she spent the night cooking a bunch of food for her family, posting videos of mac and cheese and fried chicken that literally made my mouth water. People says the family is spending most of their time at home bonding with the baby, and Kris Jenner and Kourtney Kardashian come over to help out a lot. So, what do you think the name is? If it's Louis Vuitton West, I'm leaving the planet.