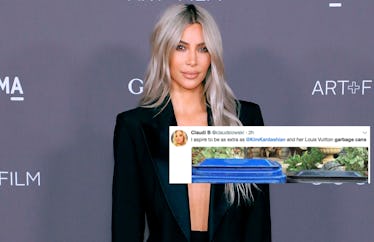 People Can't Stop Tweeting About Kim Kardashian's Trash Cans & It's Hilarious
Kim Kardashian doesn't post about her high-end belongings as much as she used to following her Paris robbery, but that changed a bit this week when she posted a picture on her Instagram and Snapchat Stories that is slaying everyone on Twitter. On Jan. 10, Kardashian was hanging out with a friend when she posted a selfie of her wearing a grill in her teeth that said "Kim." Then she posted a photo of what has Twitter in stitches: Louis Vuitton trash cans. Yes, you read that right. These tweets about Kim Kardashian's Louis Vuitton trash cans have everyone on Twitter aspiring to be a whole new level of extra.
It's honestly not clear if the trash cans are outside of Kardashian's house or the home of the friend she's hanging out with in the corresponding videos, but still, these trash cans are everything. It was one of those videos she posts where she says, "OK, guyssssss, guess what I'm doing today!" And then she never reveals what she's doing today. You know, like a tease? The only thing revealed to us are the epic trash cans and her grill that says "Kim," so maybe that's what she was doing...? She took the selfies and photos with designer Sita Bellan.
When I say I'm literal garbage, this is what I mean:
People on Twitter are losing it over these designer garbage cans.
Kardashian also posted a selfie to her Story with Bellan that shows off the "Kim" grill. (You have to kind of squint to see it.)
Kim, please, please, please let us know if these trash cans are yours or Bellan's. It's really important for my happiness that I know if these belong to you or not. You can DM with the details, thanks! Love ya!
Kardashian has been posting on her Instagram Story a lot lately. It's mostly a combination of KKW Beauty videos and selfies, but she's also been posting about baby products leading up to the arrival of her and Kanye West's third child. According to Entertainment Tonight, Kim and Kanye's surrogate could give birth "any day now," so get ready for the newest member of the Kardashian dynasty to enter the world, people. Kardashian posted about some of her favorite baby products on her Instagram Story that prove she and West are in full-on baby mode.
She posted a video of her favorite breastfeeding pillow. Some fans questioned why she'd need one if the baby is being born via surrogate, but the obvious answer to that question is she can definitely use the pillows when feeding her baby with a bottle. She also posted some videos of her favorite products from baby brand Aden & Anais: a Serenity Star and some bathtime products.
It looks like she and West are getting really excited about the arrival of their second daughter! Do you think those Louis Vuitton trash cans will be big enough to carry all the diapers they're going to be throwing out over the next year? Regardless, the trash cans are amazing. And Kim Kardashian is known for being this level of extra, so it's not hard to believe she owns them.
Kardashian posted an Instagram the other day that proves even more just how extra she is. (Please know I use the word "extra" in literally the most loving way possible, as I'm extra as hell myself.)
Confidence level = the limit does not exist.
This was literally an ad she posted for a diet shake she's been trying. Her caption read,
Little update for you guys. I'm on Day 9 of my Shake It Baby program from @flattummyco and I'm actually feeling so good. We had a massive Christmas this year and between my Mom's party, Christmas and New Years… I felt like it was impossible to fit in my regular work outs and eat healthy. But this program is giving me a kick in the right direction that I need. These meal replacement shakes are so good and it's helping me get my tummy back to flat in the new year. The results I'm seeing and feeling are amazing and I'm so excited for the next few weeks. Because they're all about getting women back on track… they've got a 20% off sale going on right now if you want to start 2018 off right… trust me, you're going to want to check them out.
Fans can't get over the fact that she looks like she's in some random kitchen in the back of a restaurant, but it very well may be her own kitchen.
Regardless, Kim Kardashian doesn't care that she's barefoot in a dirty kitchen because Kim Kardashian does whatever she wants. And that includes (possibly) owning Louis Vuitton trash cans.