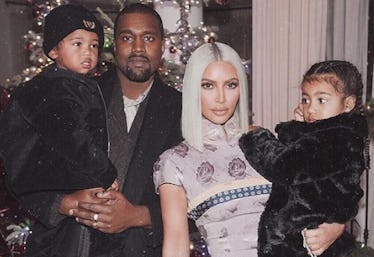 Kim & Kanye's Surrogate Could Reportedly Give Birth "Any Day Now" & We're Freaking Out
Kim Kardashian and Kanye West have us all waiting impatiently for the announcement that their third child, a baby girl, has been born. Fans think their surrogate either already gave birth and the family is keeping that information private for now, or that they're still waiting for the baby to come. So did Kim Kardashian and Kanye West's surrogate give birth? According to sources, she hasn't, but she could "any day now." Any day now?! Any day now! This is so exciting, guys. I freaking love babies.
A source told Entertainment Tonight the family is "fully prepared and can't wait to bring their baby home." If this isn't enough for you to believe that the third Kimye baby is about to arrive, Kardashian has been dropping a lot of subtle hints that the baby is almost here on Instagram all this week. Kardashian's Instagram story was filled with baby bliss earlier this week when she posted photos and videos of some of her favorite baby products. The products included a My Brest Friend breastfeeding pillow, a Serenity Star that has a lot of purposes such as as a night light and clock, and some bubble bath, shampoo, conditioner, and lotion from one of her favorite baby brands. So yeah, it's safe to say Kardashian is in full-on nesting mode.
Some people were confused why Kardashian would need a breastfeeding pillow since the baby is being born via surrogate, but guys... she can use these pillows even if she's feeding her baby from a bottle. (And it's also not our business, so...)
This Serenity Star is a room temperature indicator, a sound machine, and it keeps a feeding diary so parents can keep track of feeding patterns.
These bubble baths, lotions, shampoos, conditioners, and the Serenity Star come from Aden & Anais, an all-kids line. In the video on her Instagram story, Kardashian said it's one of her favorite brands.
Another clue on Kardashian's Instagram that proves her baby might be arriving soon can be found in this post:
On Jan. 10, Kardashian posted a photo of herself sitting on a couch while looking at her phone. Her phone is in the LuMee case she uses so much/has a partnership with, and her caption for this post is where the clue lies. She said,
Hey guys! @LuMeeCase and I need your help to make next weekend's film festival #Lit. They're throwing an exclusive event in Park City and I'm so bummed I can't make it but LuMee wants to send one of you guys in my place! Head to @LuMeeCase's page for more details. #LuMeePartnership
I wonder why Kardashian can't make it to this festival next weekend... Oh, is it because she might be spending time with her newborn baby?! Possibly, guys. Possibly. This Instagram caption could be a hint that Kardashian isn't making any big time commitments in the coming weeks because her surrogate could go into labor at any moment. Once she does, I'm sure Kim and Kanye won't be doing anything except spending their time in the hospital waiting to bring their daughter home.
Kardashian and West decided to find a surrogate because Kardashian had two high-risk pregnancies with children North and Saint. She had early-onset preeclampsia when she was pregnant with North and placenta accreta when she was giving birth to both North and Saint, so it's understandable that she would want to go with a safer option for her body for her and West's third child. Sources tell Entertainment Tonight that Kardashian and West will be in the delivery room when the baby is born, but it won't be filmed for Keeping Up With The Kardashians because Kimye wants to protect the privacy of their surrogate. The source told the outlet, "The surrogate's comfort and safety is incredibly important to [Kim and Kanye]." And now, we wait for the baby to arrive!