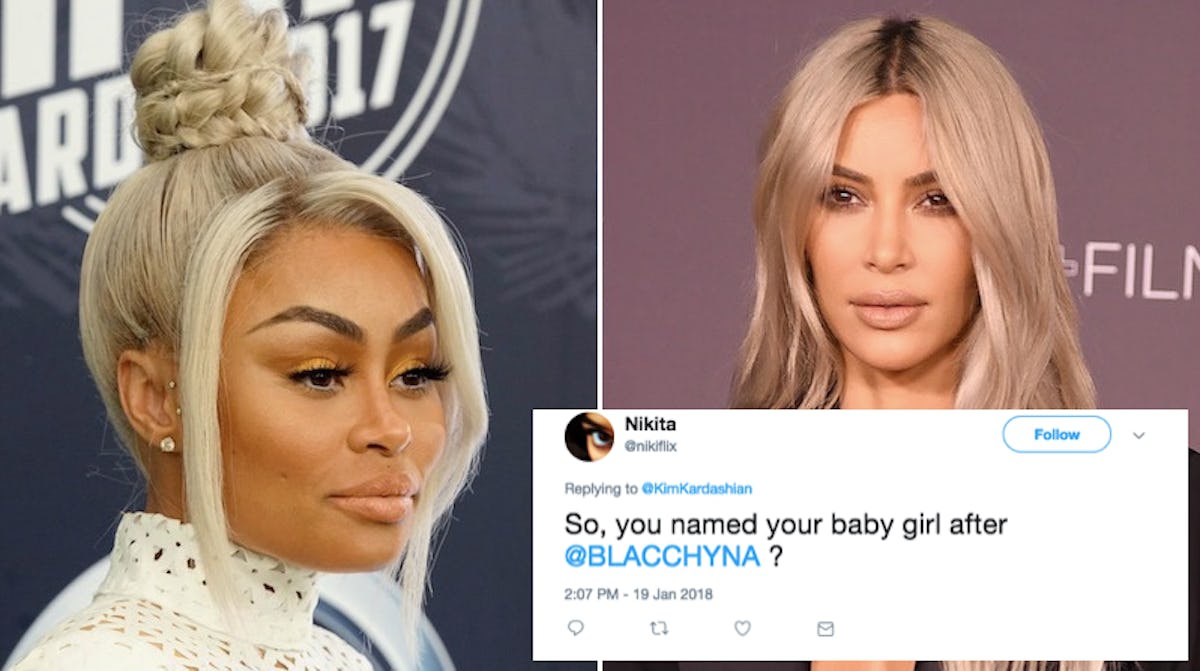 Twitter Can't Handle The Awkward Blac Chyna Connection In Kim & Kanye's Baby's Name
Getty/Getty/Twitter
Kim Kardashian announced the name of her newborn third child on Twitter on Friday, Jan. 19. The baby girl's name is Chicago West! The family plans to call her Chi for short, and as tweets about Blac Chyna and Chicago West make clear, a lot of people think it's funny that the baby's nickname sounds a lot like Rob's ex-girlfriend's nickname, Chy.
It's likely that little Chicago West's name is a tribute to her father Kanye West's past. Though the rapper was born in Atlanta, his family moved to the Windy City when he was three years old. He spent most of his early life in suburban Oak Lawn, until he moved to Nanjing, China at the age of 10 (his mother moved to teach at Nanjing University). He later attended Chicago's American Academy of Art and Chicago State University. And since Chicago, the city, is occasionally nicknamed Chi-Town, it only makes sense that Chicago, the person, would also be nicknamed Chi.
If you're not sure how to pronounce Chi, you're not alone. Like "CHI," your beloved hair straightener? Or "chai," like what you order at Starbucks? Or "she," like the first three letters of "chic"? Or, for all you Greek life members, "ky" like Chi Omega?
Aunt Khloé Kardashian came to the rescue on Twitter shortly after Kim's announcement, explaining that the family would pronounce the nickname Chi as "shy."
Oh, and for the record, it sounds like Khloé is obsessed with the name. Maybe it'll inspire her own baby name choice? We'll have to wait a few more months to find out. My money is on her choosing an unusual noun, just three of her siblings have chosen for their own children: Kim has North, Saint, and now obviously Chicago; Kourtney Kardashian has Reign (plus the more traditional Mason and Penelope); Rob Kardashian, Jr. has Dream. And who knows what Kylie Jenner — if she even is pregnant — might choose for her own child...
Once news of the nickname spread, people on Twitter started to notice the similarities between Chicago's nickname Chi and Blac Chyna's nickname Chy.
If you think Chi and Chy are really similar, you're not alone.
A lot of people wondered if the name was intended to honor Blac Chyna.
Some people wanted to know if the similar nicknames were a mistake.
Some people just thought the whole situation was pretty awkward.
As you could probably guess, Blac Chyna's birth certificate does not actually list that famous moniker as her real name. At birth, she was dubbed Angela Renée White.
So, how are Chyna and Chicago actually related? Well, it's a little complicated. Stay with me here. While Chyna certainly is part of the Kardashian/Jenner orbit, she and Chicago aren't related by blood or marriage. Chyna's daughter with Rob, Dream Renée Kardashian, is Chicago's first cousin. (And just for the record, Chyna's son with Tyga, King Cairo Stevenson, used to hang out with Chicago's aunt Kylie Jenner, back when she and Tyga were an item. What a family tree!)
Given the current rocky relationship between Blac Chyna and the Kardashian family, it seems unlikely that Chi's nickname is intended to be a family honor. See, until yesterday, Chyna had a lawsuit filed against Kim and Kris Jenner. In the suit, Chyna's lawyer Lisa Bloom claimed that E! dropped the reality show Rob & Chyna because the Kardashians made her look like a bad mom. (A judge dismissed the case.) So, yeah, it seems pretty unlikely that Kim would intentionally name her daughter after Chyna, given all the legal drama.
So, there you have it: Chicago West, nicknamed Chi (pronounced like "shy"), is named after her father's hometown and definitely not named after her cousin's mom, Blac Chyna. Because honestly, that would be a little weird, even for the Calabasas crew.