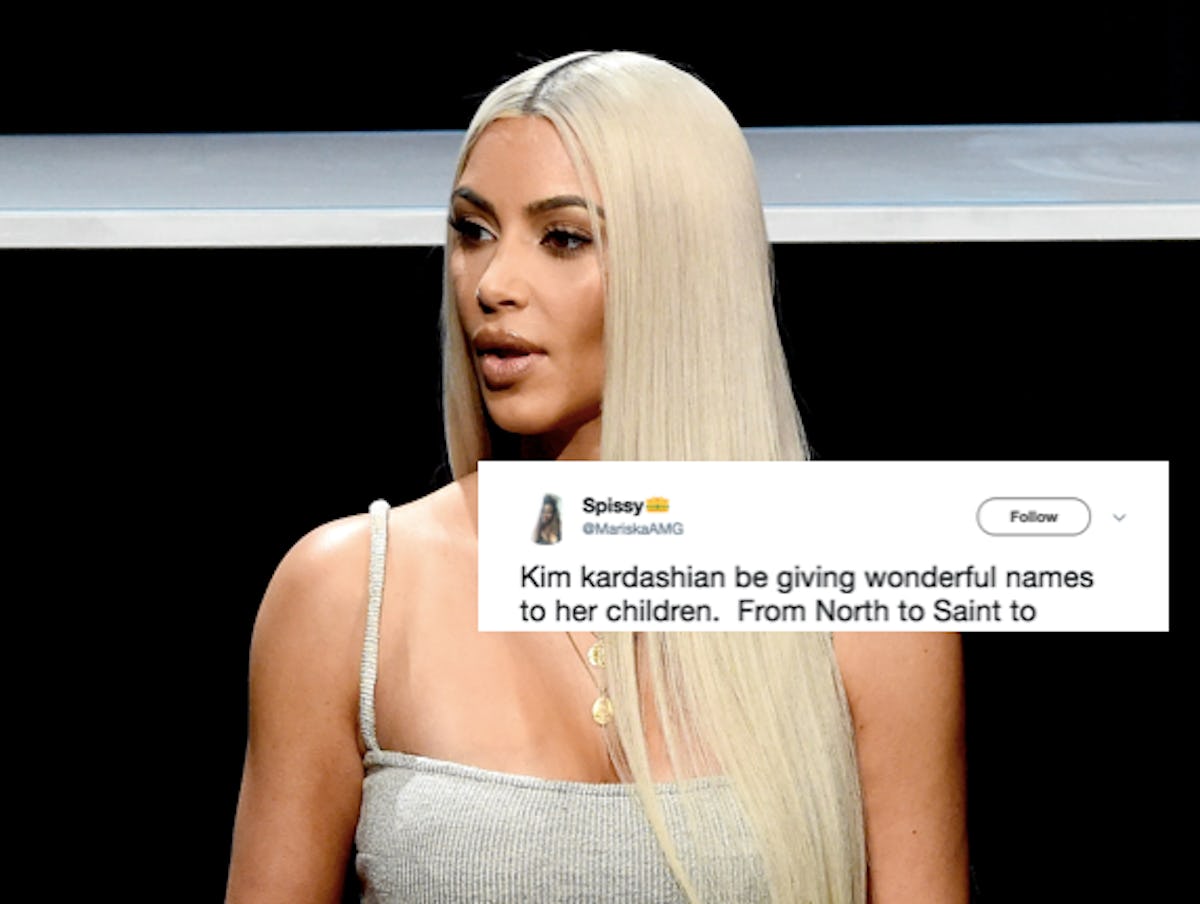 Kim Kardashian & Kanye West Named Their Daughter After A City & Twitter Is Losing It
This is not a drill. I repeat: THIS IS NOT A DRILL. Kim Kardashian and Kanye West have revealed their third child's name, and social media already has a TON of feelings about it. Her name? Well, it's a place where you might go to vacation. A windy city filled with art, history, and deep dish pizza. A little ol' place called Chicago. On Jan. 19, our worlds were forever changed when Kim K announced that her daughter's name is Chicago. The announcement sort of rocked my world in a way I wasn't expecting. Did I love the name? Did I understand it? Did I want to reconsider naming my child after a booming metropolis? I'm not so sure. And these tweets about Chicago West prove that the nation is already divided on the name.
Kim and Kanye's first two children's names are certainly unusual, but they definitely work. North is short and sweet, and the nickname Nori is adorable AF. Saint follows the one-syllable rule started by his sister, and has a masculine sound to it — but it's not so overbearingly tough that it doesn't work for a child. So, the world sort of assumed that their third child would follow suit, with Kim and Kanye naming her a one-syllable name. But the world assumed wrong, because Chicago.
Kim K took to Twitter to debut her newest daughter's moniker:
And some people were truly here for it:
Others weren't so sure:
While others just had puns:
What do you think? Personally, I think it's kind of cute. North, Saint, and Chicago, the three best friends that anyone could have.
Let's be honest, too: it could have been much worse.
On Jan. 17, Kardashian took to Instagram and posted a photograph of an up-close snapshot of the Louis Vuitton logo.
Immediately, fans began thinking that it was a cryptic clue that hinted at what her third child's new name was going to be. Because Kanye is most notable for rapping about Louis Vuitton in "Gold Digger" ("with a baby Louis Vuitton under her underarm") and has the nickname "Louis Vuitton Don," the theory was pretty strong. Kardashian was quick to shut down that theory, though, and on Twitter, she said the reason why she posted the photo was because it was Kim Jones' last show:
Those Kardashians, always making us play guessing games.
But now that we know the baby's name is Chicago, the next step is to make sure we pronounce it correctly. Shee? Shy? Chai latte? (Well, probably just chai, but chai latte would be a cute pet name for a baby, TBH.)
Khloé Kardashian is like the girl who let you copy her homework in class and gave us all the correct way of pronunciation:
OK, so Chi, pronounced "shy." It's growing on me.
I think we can all agree that Kanye's former stomping grounds had something to do with the meaning of his daughter's name, too. Considering Kanye West grew up in Oak Lawn, a suburb of Chicago, until he was 10 years old, it must be a place that he holds in his heart — especially by naming his daughter in his hometown's honor.
Obviously, that doesn't work in everyone's case (I'm absolutely not naming my child Long Island), but honestly, I think it works here. People may love it, people may not find it appealing, but all that really matters is if it resonates with the parents, which, clearly it does with Kim and Kanye.
So, instead of pitting against one another on the name debate, let's all stand together and focus on something that's more important, and that's when we will get to see Chicago's very first photo.