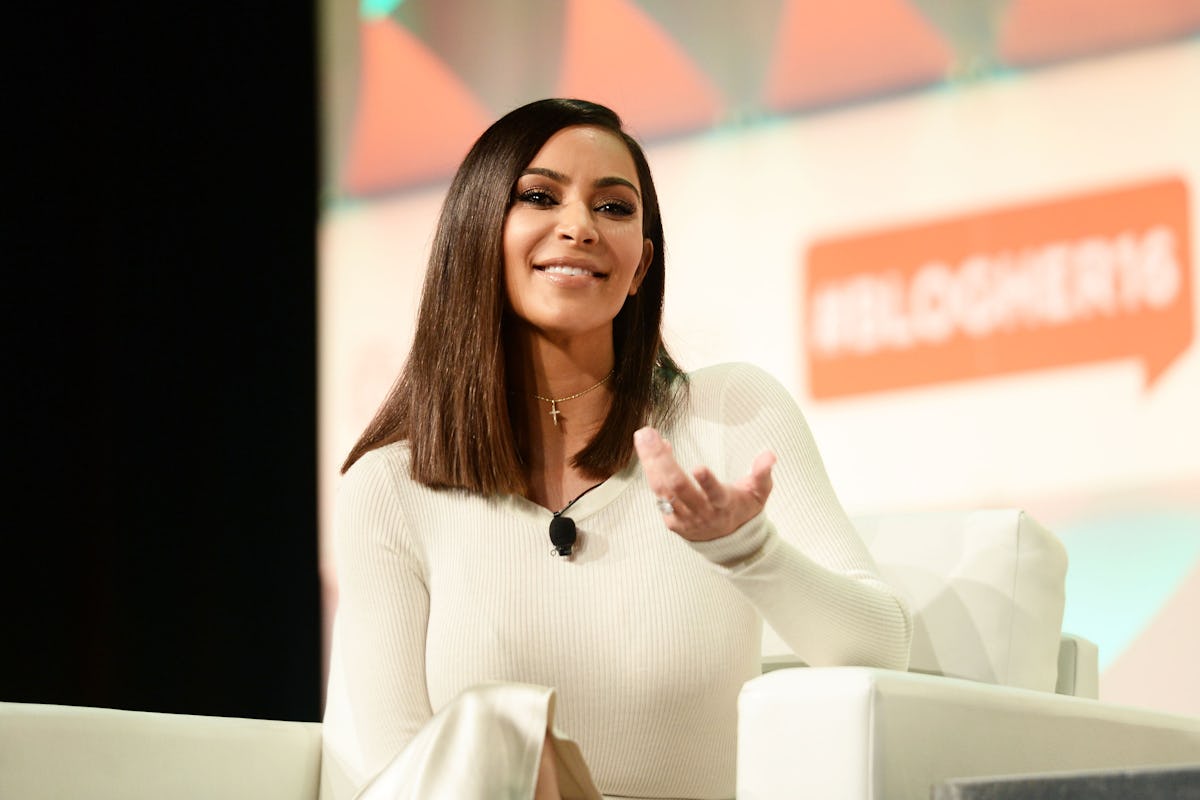 Here's The One Thing Chicago West's Name Has In Common With North & Saint
Matt Winkelmeyer/Getty Images Entertainment/Getty Images
Kardashian baby number three is finally here and the world hasn't shut the f**k up about it. From the big announcement, to how big sister North feels, we've been tracking the family's every move and devouring every detail. (Mostly because we're obsessed, but also because we sort of feel like we're a part of the family, know what I mean?) Kardashian announced she and hubby Kanye named their daughter Chicago West but fans are wondering, does Chicago West have a middle name?
I know. Under other circumstances, it would be a really odd question. But, this is Kim Kardashian and Kanye West we're talking about, and they don't do anything traditionally. Take big sis, North, for example. Her full name is North West. You might notice not only is it a literal geographical direction, but she also has no middle name. The same goes for her little brother, Saint. Kimye's son only has two names on his official birth certificate, which simply states "Saint West." According to Kim K's post, it looks like "Chicago West" is the full name, meaning her third baby has one major thing in common with North and Saint: They all don't have middle names.
Fans have been offering suggestions and taking bets on what the baby's new name could be, and let's all just take a quick moment of silence for my favorite suggestion, "Wild West."
But on Friday, Jan. 19, Kim Kardashian took to her app to reveal that she is naming her third baby Chicago West. YUP, IT'S TRUE.
Back in November, Kardashian revealed in an interview with Ellen DeGeneres she had no name options. At the time, she said, "We're freaking out. We have no name."
Of course, DeGeneres stepped in to help by whipping out her special baby-name-generator tool. "Lip-Kit West," "Pop West," "West West," and "Star West" all got the cut, though Kardashian said baby North might have voted for the last one.
She explained,
I'm not going to name her Star, but my daughter picks that name all the time. ... She got a toy and it's a llama — "Baby Sister's" toy that she took — and I said, 'Well, OK, what do you want to name the llama?' She said, 'Star— Star West!' So, she names everything Star West.' I'm not vibing on it.
While it looked like "Star" was not in the stars (SORRY!), Kardashian did reveal her baby name formula. She said,
I do like different name[s] — but short, easy to spell, one syllable... That's kind of my vibe.
Well, it looks like "Chicago" doesn't follow that, does it?
It seems like with every new kid, the pressure to pick a très chic name becomes greater and greater. When picking out North's name, Kardashian revealed she had a little bit of help.
Back in 2014, she told GQ that Anna Wintour had something to do with it, because of COURSE she did.
Kardashian claimed,
It was a rumor in the press and we'd never really considered it seriously, at all, but Kanye and I were having lunch right over there at that table about a year ago and Pharrell [Williams] came over to us and said 'Oh, my God, are you guys really going to call your daughter North? That is the best name.' I said 'No we're not, that's just a rumor.'
Then a little while later Anna Wintour came over and asked the same thing. She told us 'North is a genius name.' Kanye and I looked at one another and just laughed. I guess at that point it sort of stuck.
Now that Chicago West is here, fans are looking to Khloé Kardashian to reveal the sex and name of her future baby.
One thing is for sure, it's going to be an even fuller house for the Kardashian/Jenner clan, and like always, we'll be keeping up.
Check out the entire Gen Why series and other videos on Facebook and the Bustle app across Apple TV, Roku, and Amazon Fire TV.