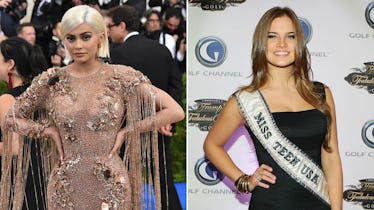 Fans Think This Model Is Throwing Shade At Kylie Jenner For Naming Her Daughter Stormi
On Sunday, Feb. 4, the world finally got some answers from Kylie Jenner. She confirmed that she was in fact pregnant, and that on Feb. 1, she gave birth to a beautiful baby girl. The news was pretty big (it basically overshadowed the freaking Super Bowl), and we didn't have to wait too long to find out Jenner's daughter's name, either. Jenner took to Instagram to update her fans with an adorable photo of her daughter holding on to Jenner's thumb, with a caption that revealed the baby's name: Stormi. Some fans loved it, while others were confused over the moniker. But there's a model who seems to be pretty unhappy over the naming of the baby, because it's her name as well. Yep, according to fans, Stormi Bree's Instagram is throwing shade at Kylie Jenner for naming her baby Stormi.
For those of you who aren't aware of Stormi Bree, she's a 27-year-old model and actress, and was crowned Miss Teen USA in 2009. She's also a mom – She has a daughter with male model Lucky Blue Smith, named Gravity Blue Smith.
So, long story short: They're both wildly attractive and successful people.
Stormi's Instagram has a ton of photos of her and her daughter, both looking adorable AF:
But Stormi's most recent Instagram photo is definitely causing some ~drama~ because it seems to be throwing some hard shade to new mom Kylie. The photo Stormi posted is a black-and-white portrait of herself, scowling at the camera, with the caption, "Current mood🕷":
Yikes. Do you see that side-eye? That furrowed brow? Her current mood does not look very thrilled.
While her Instagram post doesn't directly point out an annoyance to Jenner's baby name, she did happen to post that image almost immediately after Jenner revealed her daughter's name for the first time, so fans are connecting the dots.
Some fans are defending Bree, though, saying that she's not creating any drama and the photo has no real correlation to Jenner's news. Instagram user shcrai wrote, "What the hell does this pic have to do with Kylie's baby? Y'all are mad annoying. Leave her tf alone," while another user, sabrinnasol, wrote:
What's funny is that people really thought she posted this photo because she's petty.. she's 27 years old and has a life, not to mention her own child to look after and enjoy. She posts photos with funny captions all the time. So stop trying to create unnecessary drama. Stormi is a beautiful name. @stormibree is gorgeous. And congrats to Kylie & Travis. Let's just leave it at that.
Tellin' it like it is. That response is worthy of a standing ovation.
But other fans were quick to throw shade at Stormi because they think that she's the one who's creating the unnecessary drama. Instagram user harmouy wrote, "You're not the only person with that name Stormi. It's not always about you," while user ndhandy wrote, "Get over yourself."
I personally don't think Jenner named her daughter after the model, but who knows. Maybe she saw Stormi Bree's name somewhere and totally fell in love with it. And if she did, why is it really such a big deal? Can't we all just focus on the fact that there's a new lil' Jenner in the mix now?
Apparently, no, we can't, because even when Jenner announced her daughter's name, fans still had their opinions before Stormi Bree even posted to Instagram.
Many took to Twitter to discuss their thoughts on the name Stormi:
But some fans were here for it, letting the world know that they thought the name was actually pretty cute:
Whoever Kylie Jenner named her daughter after, let's all take a minute and just be happy that we didn't have to wait until 2020 to even learn her name.
OK? OK.