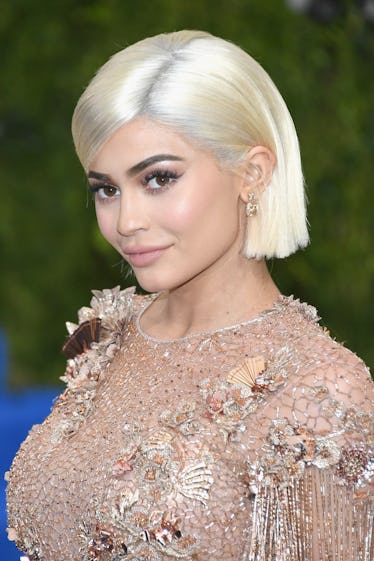 Kylie Jenner Finally Announced The Name Of Her Baby & Fans Are Losing It
Dia Dipasupil/Getty Images Entertainment/Getty Images
Friends, our world is finally, finally complete. When Kylie announced the birth of her daughter, fans were shook. The heavens opened up, angels sang, and pink confetti poured down from the sky. (OK, I made that last one up but it would have been appropriate.) But there was something missing: Kylie's daughter's name wasn't revealed, and we couldn't continue on with our lives until we knew. WELL, YOU GUYS, IT'S HERE! Kylie Jenner named her baby Stormi and fans are freaking out. Leave it to Kylie to make us wait — but at least this announcement didn't take as long as her birth announcement, so for that, I am truly grateful.
When Kylie Jenner announced that she and boyfriend Travis Scott welcomed their daughter into the world on Thursday, Feb. 1, 2018, fans were overjoyed. After months and months (and then more months) of speculation as to whether or not Jenner was pregnant, we finally heard from Jenner herself all of the glorious details.
She took to Instagram to thank her fans for understanding why she kept her pregnancy quiet and shared how much pregnancy has changed her life. Part of her caption read,
I'm sorry for keeping you in the dark through all the assumptions. I understand you're used to me bringing you along on all my journeys. My pregnancy was one I chose not to do in front of the world. I knew for myself I needed to prepare for this role of a lifetime in the most positive, stress free, and healthy way I knew how. There was no gotcha moment, no big paid reveal I had planned. I knew my baby would feel every stress and every emotion so I chose to do it this way for my little life and our happiness.
Kylie, we totally get it, and we forgive you.
Jenner also gave the world one of the most legendary videos posted to YouTube that documented the nine months of her pregnancy. The video shows clips of Jenner and Scott, as well as some adorable commentary from her BFF Jordyn Woods:
BRB, crying.
So, when the birth of her daughter was finally confirmed, people were like "Great! But what's her name?" Because on a list of priorities regarding a new baby, finding out the name is one of the top questions, and Jenner's little lady was no different.
Many speculated that Kylie Jenner and Travis Scott named their daughter Butterfly, Mariposa, or Posie, given the fact that Scott dedicated his song, "Butterfly Effect," to Jenner, the pair have matching butterfly tattoos, and Jenner has been seen wearing a ton of butterfly-inspired jewelry:
Fans also had some theories when it came to brother Rob Kardashian's baby name comment, captioning a photo of pregnant Kylie, "LOVE. Kylie's baby was born on feb 1st":
When fans were like "Holy sh*t, Kylie named her daughter LOVE!," Rob quickly responded, saying, "Kylie's baby is NOT named love!!"
Sigh. C'mon, Rob, drop us a klue please?
BUT THEN, the mystery deepened when Kylie posted to Snapchat this giant floral arrangement, made to look like the letter C:
WHICH ONLY CONFUSED PEOPLE EVEN MORE.
So, now that we know Kylie's daughter's name is Stormi, I'm just a little bit confused.
Fans took to Twitter to express their confusion over the name:
But... what's with all of these butterflies taking over Kylie Jenner and Travis Scott's life? What's with that huge letter C decked out in florals? What does ANY of that have to do with the baby's real name?
We don't know, and, to be honest, we really don't think Kylie cares.
So, what do you think of the name Stormi? Do you love it? Is it warming up to you? Are you highly considering naming your next baby Stormi?
Perhaps the Jenner-Scott family will go with a weather theme for all of their future children. C'mon, it could be cute!
Putting my money on the next child's name being Rainey. Just sayin'.