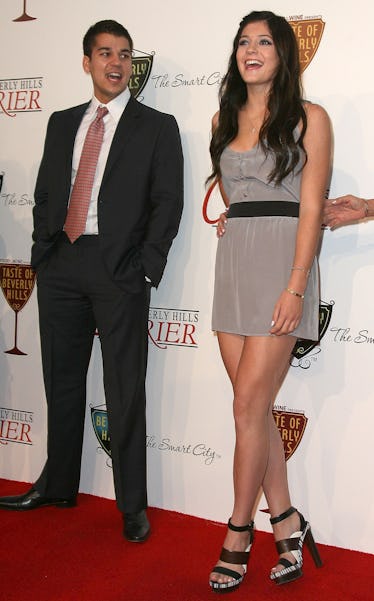 Rob Kardashian Low-Key Spread A Rumor About Kylie Jenner's Baby's Name & It's Hilarious
Valerie Macon/Getty Images Entertainment/Getty Images
Leave it to Rob Kardashian to muddle things up. After months and months of anticipation, Kylie Jenner finally announced she gave birth to a beautiful daughter, and her older brother has some things to say about it. Jenner's family has been sharing their excitement and support all over the place, but perhaps no one with as much fervor as Rob. Rob Kardashian's response to Kylie Jenner's baby is so sweet, but also, a little mysterious. Fans are wondering if he accidentally just revealed a HUGE detail about his little sister's baby, and the rumor has me LOL-ing all over.
On Feb. 4, Jenner posted a message on Instagram revealing that yes, she has been pregnant this whole time, and yes, she already delivered her baby. Even though we've all been preparing for this moment for months, it still came as a wonderful surprise. As part of the announcement, Jenner and her boyfriend, Travis Scott, created a YouTube video titled "For Our Daughter," which includes personal footage of their relationship and Jenner's pregnancy. In the video, we see Jenner meet Kim's second daughter, Chicago, while hanging out with her older brother and his daughter, Dream. It's honestly a sincerely sweet moment.
Let's be real, – we haven't seen much of Rob at all. It's also rare that you see these siblings all together in a moment of private tranquility. Normally, it's just drama, drama, drama.
Rob shared his excitement for Jenner on Instagram by posting a picture of his sister's belly and the caption, "LOVE. Kylie's baby was born on feb 1st (heart emoji)."
Do you see the rumor yet? Look closely.
People think Kylie Jenner named her baby "Love," thanks to his caption. Commenters immediately jumped all over the possibility. One user wrote, "Is @kyliejenner's daughter's name LOVE!?!?"
KEEN EYE, @Saturday365!
Rob freaked out, and immediately responded. He wrote back, "Kylie's baby is NOT named love!!"
Ugh, so funny. The user was basically like, "Yo, dude. Chill out."
Why is a total stranger telling Rob Kardashian to "calm down" so funny to me? Also, naming her daughter "Love" sounds like a very Kylie thing to do. Let's just do a quick Kardashian-baby role call, shall we?
In order of appearance, we have:
Mason (8), Penelope (5), North (4), Reign (3), Saint (2), Dream (1), Chicago (1 month), Kylie's baby (5 days), and Khloé's baby-to-come (negative three months or so).
In total, Rob shared three pictures of Kylie, including a joint photo of her and Khloé. He echoed all of our feelings about the full-on Kardashian baby-boom with the caption,
Still in shock. Never in a million years would ever think Kylie and Khloé AND Kim would be would be pregnant together! I'm so happy for you @kyliejenner, @khloekardashian, AND @kimkardashian ALL LOVE, & keep loving! (And yes I know Kim and Kylie both aren't pregnant anymore AND yes I know kim had a surrogate. In my eyes she was still pregnant ) PLEASE read caption before commenting dumb nonsense comments ..Spread happiness, and positive vibes!!!
I can't believe I'm saying this, but I'm with Rob Kardashian here.
As stressful as it's been waiting for all of the details about the respective sisters' pregnancies, it's also been a lot of fun. Fans are particularly happy for new moms Khloé and Kylie, considering everyone has said for years how these two are meant to be mothers.
More than anything, we're just so happy to hear Kylie and her sweet baby are happy and healthy.
God bless us, everyone, but particularly, God bless Rob Kardashian.
Check out the entire Gen Why series and other videos on Facebook and the Bustle app across Apple TV, Roku, and Amazon Fire TV.