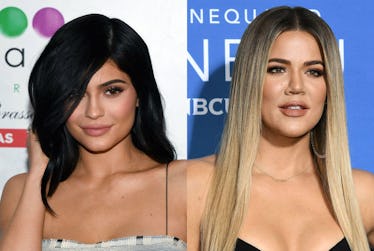 Khloe K & Kylie Jenner Took A Photo Of Their Baby Bumps Together & It's Adorable
Ethan Miller/Dia Dipasupil/Getty Images
So, since you're probably following Khloé Kardashian and Kylie Jenner in their simultaneous pregnancies, you've probably already heard that Jenner just had her baby... and we're honestly so excited about it. And if you haven't already seen this photo of Khloe Kardashian and Kylie Jenner's baby bumps, you are totally going to melt.
OK, so recap: Khloé, Kim, and (now finally confirmed) Kylie were all expecting at the same exact time. Kim gave birth via surrogate earlier this year, on Jan. 15, Khloé is still very pregnant, as we speak, and Kylie, whom we were never sure if she actually was with child, just basically won the Super Bowl, and confirmed on Feb. 4 that she gave birth to a baby girl on Feb. 1. Although it was an extremely befuddling and suspenseful journey, which lasted for what's felt like thousands of years, we are finally in on the glorious news... and we're honestly so elated.
Throughout Jenner's pregnancy, her family and friends kept totally quiet. All of them were super supportive of the fact that she didn't want anything about it to be public and didn't mention anything on television or via social media. But when Jenner finally came out and announced her super unexpected (but also highly expected) birth via Instagram, all of the love and support we've been wanting to see for months on months is finally brightening all of our lives.
Shortly after her birth announcement, Khloé K Insta'd of the two of them showing off their pregnant baby bellies together. And, TBH, it's what we all needed.
In the caption of this super magical photo, Kardashian congratulates her sister on the birth of her baby, and recognizes the bond the two of them formed through enduring simultaneous pregnancies. Although Kardashian admits that she never imagined the two of them expecting at the same time, she does say that it actually brought the two of them closer together... which is totally #sistergoals. Khloé wrote,
Congratulations My Sweet Kylie! What a magical ride it's been! I'll miss you bumping along with me. Never in a million years did I think we would do this together but it's been that much more special because of it. God is so great!! He had His plan all along! I love you little mama [heart emoji] love big mama
Um, OK, so I think my heart just grew ten and a half sizes, and TBH, I'm totally melting. Although many of us were looking for some sort of support from the Kardashian-Jenner clan throughout the duration of Jenner's pregnancy, she didn't want her pregnancy to be public, and her sisters were actually showing their support by not publicizing it. And, in reality, they were actually celebrating with Jenner along the way the entire time. Everything from the Jenner pregnancy mystery is finally coming together, and this is honestly the best news to hit a Super Bowl Sunday, ever since Destiny's Child reunited on live television. Literally, this is what I needed amidst too much football and a lot of nachos.
In addition to Khloé, there are so many people swooping in to give Jenner a ton of love and support. In Jenner's birth announcement on Insta, she starts out by apologizing to her followers for staying out of the public eye, and for keeping her pregnancy a secret. Twitter, however, came through with some love and support, because she literally had nothing to apologize about. Among support from Twitter user, @MadelineeAmy, who gave her props for "keeping her pregnancy private and treasuring her time," others like @ladybea1979 said "young moms have it hard," and wishes her good vibes.
Not only Khloé, but also all of us who have eagerly awaited to hear more baby news are clearly just super proud of Jenner, and we're beyond stoked for the birth of her newborn baby girl.